The SBA's Regulation Watchdog Is Stepping Down
by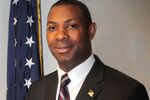 For a little-understood department in a backwater federal agency, the Small Business Administration's Office of Advocacy attracts a lot of attention. The office is charged with making sure new government regulations aren't too burdensome for small businesses. That puts it in the middle of the everlasting war between those who want less regulation and those who want more.
Today, Advocacy's top official said he is resigning. Winslow Sargeant, appointed as chief counsel for advocacy by President Obama in 2010 and confirmed by the Senate the following year, said he plans to spend more time with his family, although he planned to stay on through the end of the year. "America's small business have a team of professionals working around the clock to ensure their voice is heard through the regulatory process and their needs are understood through valuable research," he said in a statement.
That news comes after the Government Accountability Office, a federal watchdog, published a report last week criticizing Advocacy for failing to document adequately how it reaches its policy positions. Elle Patout, a spokeswoman for Advocacy, says Sargeant's resignation isn't related to the report.
The GAO report faulted Advocacy for failing to follow accepted research practices, such as submitting papers for peer review. It also said the office often failed to document how it decided what official positions it would take on new government rules in its comment letters. The second complaint is especially piquant to such groups as the Center for Progressive Reform, a liberal nonprofit organization that has complained that big corporate interest groups, rather than small businesses, hold sway over Advocacy positions.
The GAO report doesn't specify what influence, if any, those groups had over comment letters, which are the main tool the Advocacy Office has to weigh in on regulations that would affect business. But the researchers faulted Advocacy for failing to document whom it consulted as part of the process of drafting those comments. Still, said James Goodwin, a policy analyst for CPR, cites the report as evidence that Advocacy is working "on behalf of industry groups who in effect use [it] to launder influence."
Before it's here, it's on the Bloomberg Terminal.
LEARN MORE