Erdogan Crackdown Overlooked as Turkey Yield Irresistable
Benjamin Harvey and Selcuk Gokoluk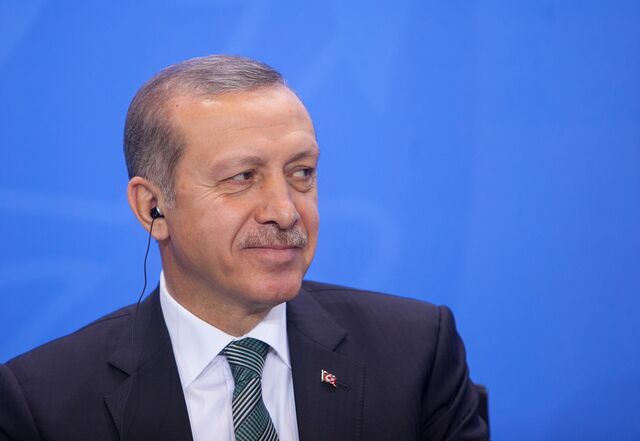 Turkish Prime Minister Recep Tayyip Erdogan can thank a growing economy, stronger currency and the second-highest yields in emerging Europe for space to conduct his biggest crackdown against opponents in more than a decade.
Investors are overlooking Erdogan's actions, from purging police officers who have probed his administration to stepping up rhetoric against Israel, to take advantage of the 8.55 percent yield paid on Turkey's two-year notes. That's the highest in emerging Europe after Russia, more than 7 percentage points above U.S. and German yields and almost 3 percentage points over the developing-nation average.
"Political concerns are well documented and perhaps justified, but broadly speaking the current technically led market environment is more influential," Liam Spillane, who helps oversee $4.5 billion in emerging-market debt as a money manager at Aviva Investors in London, said by e-mail July 29. He allocates a higher proportion to Turkey than its weighting in benchmark indexes. "Investors feel that the current volatility-adjusted yield compensates them for those concerns."
Turkey's lira leads gains against the euro in developing Europe, where most currencies weakened in July. Turkish dollar bonds have returned 1.6 percent this month, more than the 0.9 percent average for emerging-market government securities, according to data compiled by JPMorgan Chase & Co.
Adolf Hitler
Foreigners have plowed a net $2.3 billion into Turkish bonds and stocks this year, data from the central bank show. Analysts surveyed by Bloomberg predict Turkey's $820 billion economy will expand 3 percent in local-currency terms in 2014. That's almost double the pace forecast for G-10 countries, as falling domestic interest rates boost consumer demand and European Central Bank stimulus helps boost sales to Turkey's main export market.
Turkish securities held up even after Erdogan said July 20 that Israel's offensive against Gaza made the country's leaders worse than Adolf Hitler and Turkish police rounded up more than 70 of their colleagues in pre-dawn raids on July 22, the latest stage in what the premier says is an effort to expunge members of a "parallel state" in the bureaucracy.
Turkey's 10-year lira bond yields tumbled 16 basis points last week before a three-day holiday to 8.75 percent. The Borsa Istanbul 100 Index hit a 14-month high before the holiday. Trading resumed today. The lira weakened 0.5 percent to 2.1428 per dollar at 4:10 p.m. in Istanbul after falling as much as 1.2 percent yesterday.
Twitter Ban
"We're used to eccentric pronouncements from Erdogan," Paul McNamara, who helps manage about $129 billion at GAM U.K. Ltd. in London, said by e-mail July 23. "It's a standard yield play."
The rally reverses a slump earlier this year. Two-year bond yields jumped to 11.1 percent after the central bank lifted interest rates by 5 1/2 percentage points at an emergency meeting on Jan. 28 to stem capital flight triggered by a probe into corruption in Erdogan's government.
The investigation announced Dec. 17 implicated four cabinet ministers on charges that ranged from accepting bribes to rigging government contracts and gold smuggling. By Dec. 26, Erdogan had replaced 10 cabinet members. Prosecutors heading the corruption investigation were removed and tens of thousands of police officers were replaced.
Erdogan, 60, said he banned Twitter and YouTube to stop privacy violations after users leaked recorded phone conversations of him, his family and allies.
Presidential Election
"If the benign macro environment that we are in doesn't exist, you start remembering that Erdogan is quite autocratic and that the central bank policies are not very sound," Masha Gordon, who oversees more than $2.5 billion in assets as the head of emerging-market equities at Pacific Investment Management Co., said in an interview in London on July 29. Pimco's equity strategy team sold their last holdings in Turkey in the second quarter. "Turkey will be a loser if there is a sudden rise in rates. This is a very vulnerable credit."
The corruption allegations were fake, brought by people seeking to overthrow his Islamic-rooted government and jealous of Turkey's economic success, Erdogan, who took office in 2003, said at public rallies. He blamed supporters of the U.S.-based imam, Fethullah Gulen, and foreign nations he didn't identify that he said were conspiring to overthrow him.
Erdogan's party won local elections on March 30 with 43 percent of the vote, and a July poll of more than 3,000 people by the Ankara-based Objective Research Center showed him winning 54 percent of the vote in presidential elections next month.
Beats Putin
Turkish assets are benefiting as investors, encouraged by pledges from the Federal Reserve and ECB to keep interest rates low, seek higher-yielding assets. U.S. and European sanctions to pressure Russian President Vladimir Putin to end support for separatists in eastern Ukraine are also leading some emerging-market fund managers to divert holdings elsewhere.
The politics aren't great when seen "dispassionately," Michael Ganske, the head of emerging markets at Rogge Global Partners Plc in London, where he helps manage $8 billion in developing-nation bonds and currencies, said by e-mail July 29. "The way he acts -- autocratic, washing away corruption charges -- could have a negative impact in the country, but his support level is still very high and also he is well settled in his power base it appears. Erdogan looks good when compared to Putin."
Before it's here, it's on the Bloomberg Terminal.
LEARN MORE