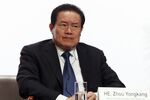 On Tuesday, China's state-run media announced that the man formerly in command of the country's sprawling internal security apparatus was now himself in detention. Zhou Yongkang—a 71-year-old former member of the Politburo Standing Committee and one of the most powerful nine men in China until 2012—is now under investigation for "serious disciplinary violation." He is the highest-ranking target of President Xi Jinping's far-reaching anticorruption drive and the first former Politburo member to be purged from the party in decades.
The one-paragraph Xinhua announcement of Zhou's detention was, in fact, rather anticlimatic, as he disappeared from public view last fall and was widely presumed to be under house arrest. Dozens of his former aides, political cronies, and relatives have already been detained and interrogated in an apparent effort to dismantle the former security czar's powerful political network. The terse official announcement omitted "comrade" from his title, indicating that as far as China's leadership is concerned, Zhou is already persona non grata.
The Communist Party's own Central Commission for Discipline Inspection, led by Xi's ally Wang Qishan, is leading the graft crackdown. It's crucial to note that its investigations—like virtually all other probes into officials in China—are not the product of any transparent or independent judicial review but rather is spearheaded by the Party itself. The choice of high-level targets is therefore indisputably political, and outsiders are left largely to guess about the rationale. Zhou was a known ally of Bo Xilai, the fallen former Chongqing Party boss and onetime rival of Xi. Prior to his detention, retired General Xu Caihou, once the second-ranking officer in the People's Liberation Army, was the probe's highest-level target; his June 30 arrest came as Xi is consolidating his power over China's armed forces.
Rather than attempting to stir up public anger, as Mao Zedong did to fuel his purges during the Cultural Revolution, Xi has not created avenues for mass public participation. In contrast, he has neutralized prominent public voices, including popular commentators on China's Twitter-like Sina Weibo who discussed the crackdown or used social media to out corrupt officials. The clear message: This crackdown is an internal affair.
To what extent is the antigraft campaign about more than politics and strengthening Xi's hand? A prominent elder statesman, Zhou had over decades carefully cultivated connections in myriad spheres of Chinese politics (helpfully mapped here by the online magazine ChinaFile). Unlike Xi, the son of one of the Communist Party's "Eight Immortals," Zhou came from nowhere, and the details of his ascension through the ranks remain unclear. A trained geophysicist, he rose to head the China National Petroleum Corporation (1996-98) before switching into regular politics as Minister of Land and Natural Resources (1998-99). He then built another power network as party boss of the populous western province of Sichuan (2001-02) before becoming Minister of Public Security (2002-07).
His connections to China's rich and sprawling oil sector have recently drawn the most critical scrutiny. In September, oil executive Jiang Jiemin, who succeeded Zhou as head of China's largest state-owned petrocompany (with $432 billion in revenue in 2013), was arrested and accused of corruption, one of dozens of high-ranking staff to be taken down by the crackdown. Reuters reports that Jiang was Zhou's protégé and had used his position—and CNPC's hefty budget—to dispense lucrative contracts as patronage to burnish Zhou's political network. The ripples of a shake-up in China's energy sector may be felt worldwide. CNPC owns PetroChina, which is traded on the Hong Kong, Shanghai, and New York stock exchanges; the company also operates oilfields, refineries, and pipelines in Africa, Central Asia, Latin America, and Canada. Spending on overseas projects in the past five years totaled about $25 billion, according to Reuters' estimates.
China's oil giants, PetroChina and Sinopec, have also functioned as a special interest opposed to some of Xi's domestic energy-related priorities, such as modernizing technology and energy pricing, improving energy security and efficiency, and tackling pollution. For example, the oil companies control the committee that sets standards for gasoline and diesel; they previously delayed efforts to upgrade fuel standards aimed at reducing tailpipe emissions and cutting pollution. (The State Council later announced stricter fuel standards in March 2013.) Last month, President Xi, who supports aggressively expanding nuclear power, called for an "energy revolution in China."
Taking a relatively optimistic view of the ongoing crackdown/purge, China politics expert Bill Bishop recently wrote in his Sinocism newsletter: "I believe that Xi is serious about improving governance and cleaning up at least the more egregious corruption. [However], improving Party-state governance does not mean making political reforms in any Western sense but it does mean trying to build a more adaptable and accountable authoritarianism," which requires "reining in and in some cases removing special interests," such as oil barons and powerful generals.
But the question remains: How well can this experiment work so long as the only mechanism to hold the party in check is the party itself?
Before it's here, it's on the Bloomberg Terminal.
LEARN MORE