Anti-Semites Ooze to Surface as Gaza Stirs the Pot: Opening Line
Christian Thompson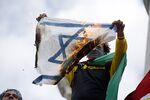 Say what you will about the Jews. Pretty much everyone else does.
Any chance they get, any opening they're given, people with a perverted sense of what's worth worrying about, what might be the cause of their problems or any problems at all -- people who will rail against the government or immigrants or the other party or the designated hitter -- scarcely need an invitation.
Mostly all but the worst of them will try to keep a lid on it -- the Jews thing, not the rest of it -- but once the invitation arrives, out it comes, and the invitation has been received, arriving with a Gaza postmark.
In Berlin, which is not a good place for this, more than 1,000 mostly Muslim demonstrators tried to get a rise out of the Germans late last week, but were countered with a force of non-Jewish German youth, which is the last bit of happy news this item will impart. Also late last week, "Death to the Jews" rang out in the streets of the Hague, of all places, voiced by supporters of ISIL or ISIS or whatever TF it's called this week, who were given a permit by the city council.
In France, it gets a lot worse. Synagogues and Jewish businesses are getting torched now, forcing the French authorities to start banning rallies, which is antithetical to the French. They practically attend summer camps to learn protesting. A lot of this is coming from French-born Muslims, but not all of it.
The French comedian Dieudonné makes anti-Semitic humor a staple of his act and has blessed the French culture with the "quenelle," an almost upside-down Nazi salute that fools no one. He was born in France to a French woman who's a Buddhist and to a man from Cameroon, and attended Catholic school. Dieudonné's fans were using the quenelle during a street protest in Paris earlier this year while shouting, "Jews, out of France!," according to the Washington Post.
In its report two days ago on the state of religious freedom around the world last year, the U.S. State Department wrote that "throughout Europe, the historical stain of anti-Semitism continued to be a fact of life on Internet fora, in soccer stadiums, and through Nazi-like salutes, leading many individuals who are Jewish to conceal their religious identity."
Sounds familiar, that last bit.
Thing is, this has been there all the time. The Gaza conflict appears to be a convenient excuse. A 2012 survey -- two years ago -- of almost 6,000 Jews in the eight countries that have 90 percent of Europe's Jewish population found 76 percent said anti-Semitism had increased in the past years.
What, they're so special?
"Hath not a Jew eyes? Hath not a Jew hands, organs, dimensions, senses, affections, passions? Fed with the same food, hurt with the same weapons, subject to the same diseases, healed by the same means, warmed and cooled by the same winter and summer, as a Christian is? If you prick us, do we not bleed? If you tickle us, do we not laugh? If you poison us, do we not die?''
That's Shylock, the money-lending Jew in Shakespeare's "Merchant of Venice," written more than 400 years ago. It's the speech everyone knows. Not everyone knows the line that ends it, and that's the one worth reading again:
"The villany you teach me, I will execute, and it shall go hard but I will better the instruction."
***
Economic indicators in the U.S. today include ADP employment change at 8:15 a.m. EDT, GDP and personal consumption at 8:30 a.m., and the FOMC's rate decision at 2 p.m. For a decision-day guide to the FOMC's meeting, click here.
Fifty-four U.S. companies are lined up to release earnings today. There's an energy flavor to the day, with Hess, Dominion Resources, Valero, Southern Co., Phillips 66, Tesoro and Williams Cos. reporting. Others include Lorillard, Carlyle Group, AllianceBernstein, IAC/Interactive, Hartford Financial and MetLife.
There are general meetings at CA and at McKesson, whose shareholders will vote on a proposal to reduce payouts to management if the company is taken over.
Overnight, Japan said industrial output dropped 3.3 percent in June from May, the most since the March 2011 earthquake.
A short time ago, the European Commission said euro-area economic confidence unexpectedly rose in July. Spain said that second-quarter GDP grew 0.6 percent, topping the Bank of Spain's forecast of 0.5 percent, and that consumer prices declined 0.3 percent. Meanwhile, housing starts fell 19 percent in France.
***
- Argentina's talks with creditors are set to resume today, the default deadline. - Added Russia sanctions from the EU and U.S. yesterday targeted banking, energy, technology and individuals. They're not getting great reviews. - Obama delivers an address on the economy at noon EDT in Kansas City, Kansas. - Synchrony Financial prices its initial stock offering after the bell today, and it sounds complicated. It's still GE, right? - The UN Security Council meets to discuss Iraq and Syria. - Kerry travels to India. - Twitter shares are rising in Germany after the company said yesterday its user growth jumped 24 percent. - Steven A. Cohen is making all his fines back rapidly. - Ben Lawsky wants to put financial monitors at Deutsche Bank and Barclays amid an investigation into the rigging of benchmark currency rates. - The highway spending bill, which the Senate approved yesterday with amendments, is coming back to the Senate because the House doesn't want amendments on its bill. - The House Oversight Committee holds a hearing on the IRS, and the House Judiciary Committee holds a hearing on the need for a special counsel to investigate the IRS. - The Senate votes on $2.7 billion in spending related to the immigration crisis. It's not expected to pass. - Mariano Rajoy, Spain's prime minister, was scheduled to meet Catalan President Artur Mas at 5 a.m. EDT to discuss plans for a referendum on Catalonia's independence. - Police in China's Muslim Uighur region killed dozens of attackers who had killed dozens of victims with knives and axes yesterday, but it's China, so who really knows. - Mississippi's only abortion clinic will remain open after an appeals court blocked a law requiring its doctors to have hospital admitting privileges. - Jesse Ventura, the former governor of Minnesota, won a $1.8 million libel suit. - A burst water main flooded UCLA's campus as the city struggles with drought, requiring the rescue of some trapped in parking garages and inundating the recently renovated Pauley Pavilion. - Sharknado 2 airs tonight at 9 p.m. EDT on the Syfy Channel. We hear it's better than the original. - Someone's going to sue over this. - Charles Barkley has offered to pay for the funerals of three children killed when two carjackers ran over them in Philadelphia.
***
Amazon.com finally came out with it yesterday regarding its dispute with the publishing house Hachette, during which the publisher's books were banished to Siberia over the pricing of digital books. Let's try to read between the lines of Reed Stevenson's story.
"Amazon.com Inc. said its dispute with Hachette Book Group is part of an initiative to lower digital-book prices and boost income for authors."
Never a doubt this was a selfless act on behalf of the writers, which is why they're so happy.
"The Seattle-based company proposed that revenue from an e-book should be split 35 percent to the author, 35 percent to the publisher and 30 percent to Amazon."
Three weeks ago Amazon said authors should get 100 percent of e-book revenue, according to the Wall Street Journal.
"'Books compete against mobile games, television, movies, Facebook, blogs, free news sites and more,' Amazon said in the statement, which was posted on the forum for its Kindle e-book reader. 'If we want a healthy reading culture, we have to work hard to be sure books actually are competitive against these other media types, and a big part of that is working hard to make books less expensive.'"
Because we are Amazon, we get to decide for everyone, like the Texas Board of Education.
***
"Hi Dad."
"Hey. Hold on one minute. (Covering the phone's mic, to his wife: ''OK, start it up.") Hey, what's up? I'm going to put you on speaker because my hands are wet."
"Nothing, just chillin'."
"Where are you?"
"Over at Donnie's. (Mom is shaking her head.) He got a drone, we're messing around with it."
"Really? Cool. Hey, you know what, I meant to ask Donnie's dad about golf this weekend. Can you put him on the phone real quick?"
"UHH…I think he left."
(Dad grins, mom smiles back at him.)
"Oh, no problem. I can talk to Mrs. Porter, then."
"Yeah, uh, I think she went with him."
"Really? OK. Just you guys then."
"Yep, just us."
"Sounds like a lot of fun for two boys with a toy helicopter."
"That's -- we have the radio on."
(Mom rolls her eyes. Dad tries to stifle guffaws.)
"I see." (Pause.) You forgot about it, didn't you?''
(Silence, then) "Yeah. Does my phone track your phones, too, or just…?"
"Be home in an hour."
"OK."
***
Hard to say which is the worst element to the comments that got Stephen A. Smith suspended by ESPN for a week yesterday (besides the sentiment expressed in them) -- that they burbled out half-formed with the rest of his unending diarrhea of the mouth, or that he might have thought them out ahead of time.
Or his stupid, David O. Selznick middle initial.
We were subjected to this foghorn for 15 years while he was a sports reporter and then columnist at the Philadelphia Inquirer, which eventually showed him the door, so we're more familiar than most with his antics.
In an if-you-don't-want-to-get-raped, don't-dress-like-that comment last week, he agreed that the two-game suspension given to the Baltimore Ravens' Ray Rice over alleged domestic abuse was too lenient, then suggested women may bring it on themselves.
Smith becomes the story, tries to be bigger than the story. Like a lot of athletes in professional sports who think they're bigger than the game, especially the sport in which Smith is most expert, basketball. It's the only one we know of that leads to televised decisions.
ESPN knows this, but he's not a lowly website editor who blundered into the "chink in the armor" cliché about Jeremy Lin, which is why that guy was fired, another guy involved was suspended a month and Smith gets a week's vacation for this.
"Stephen A. is ringing a bell," Mark Shapiro, now an executive at Dick Clark Productions, told the New York Times in 2005, when he was an executive vice president of ESPN. "People like him and dislike him, but they still watch him. These days, it's hard to find a talent who strikes a chord that way. Polarization is a commodity."
***
Dear Sara Marley:
It's the middle of the night in Britain as we write this, but if we could have roused you from whatever catatonic state you must be in after swimming the English Channel in almost 14 hours, here's what we would have asked:
At what point in the 21-mile swim did you think you'd never make it?
At what point did you think you would make it?
You do know you weren't swimming in a straight line, right?
Tell us again about having to produce a passport after all that.
Does one celebrate such a feat by drinking French Champagne or a pint of ale?
You've got a few thousand colleagues pretty chuffed, as they say over there.
- O.L.
Before it's here, it's on the Bloomberg Terminal.
LEARN MORE