business
Why Alibaba Might Want to Invest in Snapchat
By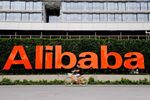 Despite Snapchat's various missteps of late, ranging from security breaches to federal fines to embarrassing revelations about the boorish past behavior of its co-founder and chief executive officer, plenty of investors are still gung-ho for a piece of the company. Bloomberg News just reported that a group of investors, including Alibaba, is currently in talks with Snapchat for a round of financing that could value the company at $10 billion.
Why would Alibaba, a Chinese e-commerce giant, want to invest in Snapchat, an ephemeral messaging service popular with American teenagers?
Back in January, SunTrust analyst Robert Peck explained the potential attraction between the two companies in a note entitled, "Ten Reasons Alibaba Should Buy Snapchat." (You can read highlights of his analysis here and here.)
To date, Snapchat co-founder and CEO Evan Spiegel has shown zero interest in relinquishing control of the company, famously spurning a $3 billion acquisition offer from Facebook. Nevertheless, there are plenty of reasons, as laid out in Peck's note, why Snapchat and Alibaba could be interested in one another.
Here's the gist: Alibaba rival Tencent owns the popular messaging app WeChat and is now starting to use the platform to elbow into Alibaba's territory. Alibaba has largely missed out on the mobile messaging craze and has no serious way to counter Tencent's incursions. At the same time, Snapchat, despite its ubiquity among young people in the U.S., has failed to gain much traction in Asia, where mobile messaging services are big.
In theory, Snapchat could help Alibaba get some traction in mobile messaging while also helping introduce the brand to American consumers on the eve of its upcoming initial public offering. Likewise, Alibaba could help Snapchat get some traction in e-commerce (an arena in which Snapchat competitors Facebook and Twitter are already making strides) while introducing the service to consumers in Asia.
How that might work in practice is anybody's guess. For now, according to Bloomberg News, the talks "are ongoing and the terms of the funding may change." In other words, the promising corporate attraction could still disappear faster than a Snapchat selfie.
Before it's here, it's on the Bloomberg Terminal.
LEARN MORE