Airlines Sue TSA Over Higher Security Fees
By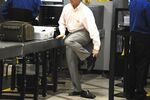 Two large airline trade groups are suing the Transportation Security Administration over how it collects higher federal security fees on airline tickets.
The airlines say the TSA has been collecting more for flights than it should and assessing the fee on domestic portions of airline trips that begin abroad, two things lawmakers in Congress did not intend when they approved the higher fees last December. The security fee rose this month to $5.60 for each way of an airline trip, up from $2.50 per flight segment, or a maximum of $5 for multi-leg trips. The old rule capped security fees at $10 for a round-trip with four flights.
The 2013 budget bill "shifted the focus of the fee from enplanements to one-way trips, without evincing any intent to disturb the existing round-trip cap on fees," the airlines say in their suit. With the changes, however, airlines accuse the TSA of disregarding congressional intent to continue the cap at $5.60 regardless of the number of planes one boards for the trip. Some multi-stop trips have TSA fees of nearly $34, according to Airlines for America, citing security fee examples under the new scheme that were published by the TSA.
A spokesman for the TSA said the agency had no comment on pending litigation.
The airlines, which lobbied vigorously against the bipartisan compromise on raising the security fee, say the higher charges will cost travelers more than $1 billion per year. The security fees date to 2001, when Congress created the TSA, seeking to make air travel safer following the terrorist attacks.
Before it's here, it's on the Bloomberg Terminal.
LEARN MORE