Air Algerie Probe Left Sifting Fragments From High-Impact Crash
Simon Gongo and Kari Lundgren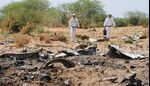 The Air Algerie jetliner that crashed in Mali last week came down with such force that much potential evidence was destroyed, while searing temperatures have made identification of victims tougher, investigators said.
The McDonnell Douglas MD-83 aircraft appears to have crashed in one piece and at a very high speed, Colonel Patrick Touron of the French gendarmerie's Criminal Research Institute said today at the site of the wreckage.
"The plane is destroyed completely," Touron told reporters, adding that the catastrophic impact was followed by a fire as the plane's fuel tanks exploded. "We don't have one suitcase, no seats, the energy has fragmented everything."
A team of 50 including experts from Mali, France, Spain and Algeria has been deployed in the area near the Burkina Faso border where Flight AH5017 came down early on July 24, killing all 110 passengers and six crew. Black-box flight recorders located by French military forces and the United Nations Mission in Mali are likely to provide vital clues on the plane's demise in the absence of physical evidence.
The impact excavated a crater 40 meters (131 feet) wide and 1.8 meters deep, Touron said. Investigators have found fragments of shoes, trousers, jewelry and watches, which will be sent either to nearby Gao or the Malian capital Bamako.
"We have collected body parts that will be sent for analysis because we have to take the heat into account," Touron said. The first identifications can be expected within 3 weeks, though the whole process could take up to eight months, he said.
Investigators have requested weather imagery, information about the crew and passengers and data on the plane's trajectory, the gendarmerie's Colonel Simon Delannoy said.
Burkina Faso -- from where the plane took off bound for Algiers -- Niger and Mali share a border in the southern Sahel, a semi-arid zone below the Sahara desert that is sparsely populated and with few roads.
The Air Algerie crash took the 2014 death toll in airline disasters to 680 passengers, higher than the 12-month totals for the past three years, according to Ascend Worldwide.
Before it's here, it's on the Bloomberg Terminal.
LEARN MORE