UPS Spends Now to Avoid Playing Scrooge Again This Christmas
by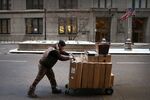 UPS expects a a further glut of gifts at the end of the year, but it's paying for them now. The shipping giant said this morning that it is spending $175 million on some 30 projects to upgrade its network in advance of the 2014 year-end Web-shopping frenzy.
The investment weighed heavily on the company's profit outlook and its share price, although the alternative to all this spending wouldn't be great either. Last year, UPS failed to deliver an unspecified number of packages by Christmas Day, as its network was slammed by a tide of last-minute orders and a string of winter storms. Its partnership with Amazon Prime—in which two-day shipping is free for members—made the company particularly susceptible to 11th-hour orders.
The company is upgrading the software that plans the best routes for its drivers and is adding 50 new sorting operations in its hubs. It is also staffing up on Black Friday, not just the weekend that follows it. UPS Chief Executive Scott Davis described the investments in a conference call on Tuesday as a way "for our customers to secure their business and build their trust."
The focus, at least initially, isn't to make more money on the all-important holiday season. "Over time, it may generate more revenue,"  UPS Chief Financial Officer Kurt Kuehn told analysts, "but the real purpose is to smooth out operations."
Sales in the recent quarter rose 5.6 percent, to $14.3 billion, while the volume of U.S. shipments climbed 7.4 percent. Lightweight packages from online stores, in particular, drove growth via purchases of apparel, electronics, and household odds and ends. In the U.S., the company handled about 159,000 packages per day last quarter. Still, UPS's profit fell 58 percent, to $454 million, dragged down by a $665 million charge related to health-care benefits for retirees.
Peaks in demand are a bittersweet part of any business, from restaurant chains to mom-and-pop ice cream shops. UPS doesn't have a choice as to whether to beef up its network, unless it wants to play Scrooge again and guarantee deliver by Dec. 27. The question will be how much all its improvements will help during the rest of the year. Better navigation software in delivery trucks, at least, should help out, regardless of how many packages are on board.
Before it's here, it's on the Bloomberg Terminal.
LEARN MORE