Uniqlo Takes Its Pile of Cheap Clothes Into the Midwest
By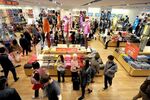 Uniqlo, already bent on becoming the world's largest apparel-seller, is finally planting its cheap, colorful cashmere flag in America's Heartland. The company said today that it will open a massive store on Chicago's Michigan Avenue in fall 2015.
There are currently 21 Uniqlo stores in the U.S., according to Fast Retailing, its Tokyo-based parent, but the brand has remained decidedly bi-coastal. The farthest it has ventured from an ocean to date is a Pennsylvania mall. A Web store for U.S. customers launched in late 2012).
Did it take Uniqlo executives years to realize Windy City residents might be interested in down jackets and really warm underwear? Probably not. The company has simply been very cautious. It has tried to create clusters of retail—regional islands of colorful capri pants and cotton t-shirts. It is especially particular about hiring and training, part of its effort to cultivate Zen-like customer service. This is why Uniqlo cashiers always hand a credit card back with two hands and a little bow.
New York and San Francisco were the company's beachheads. A slate of Boston stores will open in the next three months, with two Philadelphia stores scheduled for ribbon-cuttings in October—and then, Chicagoland. When finished, Fast Retailing said the Michigan Avenue flagship will be its second-largest store in the U.S.
Uniqlo's competition in the "world's-largest" category have long been on Chicago's "Miracle Mile." H&M opened a store on Michigan Avenue in 2003, filing a spot abandoned by FAO Shwarz. Zara followed suit in 2009.
There are now 2,718 Fast Retailing stores worldwide, compared with 3,285 H&M locations and 6,393 shops run by Zara's Inditex. Look out Shaumburg, Davenport, and Des Moines, Iowa!
Before it's here, it's on the Bloomberg Terminal.
LEARN MORE