Profits Not on Flipkart Agenda After Raising $1 Billion
Adi Narayan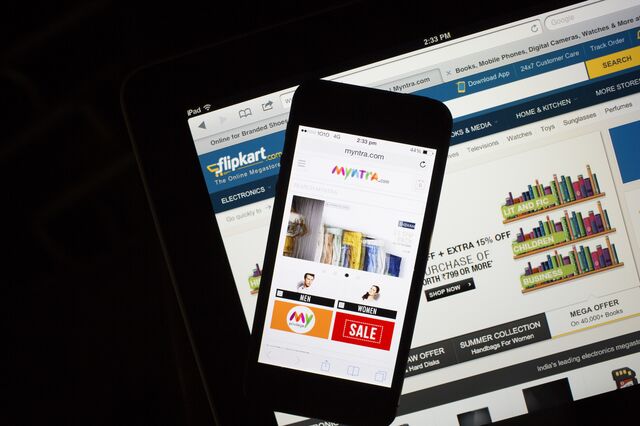 Flipkart, the retailer that pocketed $1 billion in the biggest fundraising by an Indian e-commerce company, is happy to keep losing money as it tries to maintain a market lead, Chief Executive Officer Sachin Bansal said.
"We don't intend to become profitable anytime in the near future," Bansal, 32, said in a conference call yesterday after the announcement of the capital injection. "We want to first settle down into a business model and then think about profitability over time."
The Bengaluru-based company, India's largest online retailer by sales, was set up by two former Amazon.com Inc. engineers and its approach mimics that of the U.S. online giant, which has favored growth over profits.
Flipkart plans to use the money raised from a group led by Chase Coleman's Tiger Global Management LLC and South Africa's Naspers Ltd. to develop its delivery infrastructure and buy technology companies, Bansal said. At stake is continued leadership over Amazon and other rivals in an Indian market that CLSA Asia Pacific, a brokerage and investment group, estimates will expand sevenfold to $22 billion by 2018.
The fresh fundraising comes two months after Flipkart got $210 million from Russian billionaire Yuri Milner's DST Global, which has invested in some of the best-known technology companies including Groupon Inc., Zynga Inc. and Twitter Inc. Milner invested in this round as well, along with Singapore sovereign wealth fund GIC Pte, which in a statement yesterday called Flipkart a "trendsetter."
Valuation Tripled
The latest round of fundraising values Flipkart at about $5 billion, Bloomberg News reported July 23, citing a person familiar with the transaction. That's more than three times the valuation during its $160 million funding round in October last year, according to a report from PrivCo, a firm that studies private company performance.
The Indian web retailer's sales increased by more than fivefold to $197 million in the year ended March 2013 from the year before, PrivCo said in a June report. Losses had also widened to $32 million from $10 million in fiscal 2012. A Flipkart spokeswoman declined to provide financial details of the company.
"This could be a game changer for India's e-commerce industry," said Ruchi Sally, head of retail advisory at consultant Elargir Solutions Pvt. in Mumbai. The funding puts pressure on Amazon to get market share, she said.
Amazon Lagging
Seven-year-old Flipkart and Myntra.com had a combined 9 percent share of the 170 billion rupees ($2.8 billion) worth of Internet retailing transactions in India in 2013, before Myntra was acquired by Flipkart in May, according to data from Euromonitor International. Amazon had a 1.6 percent share selling everything from lingerie to smartphones.
Almost all the large web retailers in India are losing money as they give discounts to attract new customers in a highly competitive market, said Piyush Sinha, professor of marketing at the Indian Institute of Management in Ahmedabad.
Flipkart will continue to lose money as it refines its strategy to tap India's growing smartphone user base, Bansal said.
"We are not thinking of an IPO at all," Bansal told reporters at a press conference. "We haven't yet settled on a business model to take public."
Instead, Flipkart will continue to seek private funding to sustain its growth, Bansal said. That appears to mark a shift from two months ago, when the company purchased apparel retailing rival Myntra.com.
"Huge opportunity"
"We want to be a public company some day, and that's what we're working towards," Bansal said in a May 22 interview.
The biggest e-commerce companies can afford to keep losing money to offer low prices to customers, as investors expect them to become profitable in the long term, said Pinakiranjan Mishra, a partner at Ernst & Young in India. There is a "huge opportunity" for web retailers in India's small towns, as their offline competitors have a weak presence there, he said.
"If you are the number one player and the biggest player, the assumption is that the funds will keep coming," Mishra said in a phone interview.
Bansal's promise is that the heavy investments will pay off in the long run. In the past seven years, the company has added most shopping categories to its website and hired 14,000 workers, mostly logistics personnel, to deliver packages and operate warehouses.
Bezos Parallels
"We want to have almost anything and everything to be sold on Flipkart," Bansal said yesterday.
It is a similar approach to that of Jeff Bezos, co-founder and chief executive of Amazon. The Seattle-based retailer remains one of the most highly valued companies in the U.S., yet it is losing some of its sheen as profits are eroded by investments in cloud computing, warehouses and gadgets such as the new Fire smartphone. While shareholders have been patient, they are increasingly eager for signs that the long-term strategy will work.
The same could happen with Flipkart as investors start pushing for returns, according to Sally, the retail consultant.
"Investors are not investing to give discounts to customers," Sally said. "They are investing to make profits."
Before it's here, it's on the Bloomberg Terminal.
LEARN MORE