Orange Accelerates Cost Cuts to Halt Earnings Drop
Marie Mawad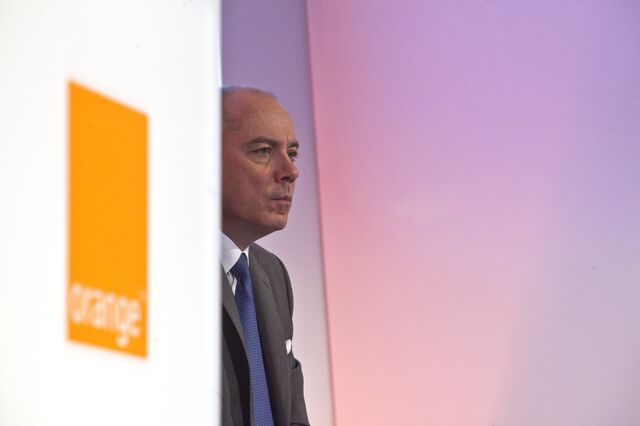 Orange SA, France's largest phone company, boosted its cost-cut target as it strives to halt an earnings slide caused by years of price wars in its home market.
The carrier plans to reduce costs by more than 300 million euros ($400 million) this year, more than the previous goal of at least 250 million euros. Second-quarter earnings were in line with estimates and Orange said a key profit margin for 2014 is set to halt a decline that's lasted at least five years.
Chief Executive Officer Stephane Richard, trying to fight falling phone bills, has cut handset subsidies and labor costs while focusing on ultra-high-speed connections to lure customers with deeper pockets. He has also tried unsuccessfully to lead consolidation with smaller rivals Bouygues SA and Iliad SA.
"We're seeing the end of a cycle; consumers are less attracted by low-price offers," Gervais Pellissier, finance chief of Paris-based Orange, said on a conference call. "We're grabbing high-end customers in mobile and in fixed -- that's how we want to fight the battle."
Shares of Orange added as much as 2.5 percent and gained 0.1 percent to 11.82 euros at 11:33 a.m. in Paris. The stock had risen 31 percent this year through yesterday, the biggest increase on France's CAC 40 index.
'Earnings Recovery'
Second-quarter earnings before interest, taxes, depreciation and amortization fell 5.2 percent to 3.12 billion euros. Analysts projected 3.09 billion on average. Orange said the 2014 Ebitda margin, excluding some items, will be stable.
Phone and cable carriers across Europe are seeking mergers and acquisitions to help ease competitive pressure on prices -- a pursuit made more likely after the European Commission this month approved a reduction in the number of wireless-network providers in Germany. Richard has said he's also eyeing deals in Spain, Romania and Poland.
Talks for potential tie-ups have heated in France since Vivendi SA agreed in April to sell SFR, Orange's largest rival, to cable operator Numericable SA, leaving the country with four phone companies after years of falling prices. Iliad entered the market in January 2012 by selling discounted mobile-phone packages, fueling price competition. Bouygues Telecom has lowered tariffs for fixed service as well.
"We see further upside in the shares in the event of market consolidation in France," Stephane Beyazian, an analyst at Raymond James in London, wrote in a note. "Meanwhile, we expect Orange to continue to show an earnings trend recovery."
Orange's sales fell 5.2 percent to 9.8 billion euros, in line with estimates. Ebitda, excluding some items, as a percentage of sales was unchanged at 31.9 percent as Orange avoided a profitability decline for the second straight quarter.
Netflix, IPhone
With Apple Inc. said to be preparing bigger iPhones and Netflix Inc. setting up to bring its online-video service to France, Orange's second half is set to be affected by product introductions. The carrier won't distribute Netflix's service in September, until the two companies reach an agreement regarding network adjustments and revenue sharing, Richard said.
"We expect the second half to be a good second half," Delphine Ernotte, head of France for Orange, said today in a conference call. "There's a new launch -- the iPhone 6 -- that's always an opportunity for Orange to make new sales with the premium market."
Orange makes about half of its revenue in France and the rest in countries from Spain to Egypt.
The company repeated its forecast for full-year Ebitda, excluding some items, of 12 billion euros to 12.5 billion euros. The Ebitda margin on that basis was 30.9 percent for the full-year 2013.
Before it's here, it's on the Bloomberg Terminal.
LEARN MORE