The Fine Print on the NCAA's Cheap Concussion Settlement
Paul M. Barrett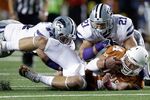 At first glance, the National Collegiate Athletic Association appears to have gotten off easy on concussions.
Just hours ago, the NCAA announced that it has agreed to provide $70 million for head-injury testing and diagnosis of current and former college athletes as part of a settlement of a series of player lawsuits. The dollar figure seems awfully small, compared to a recently augmented settlement of similar claims against the National Football League. The uncapped NFL pact could end up costing the professional league $900 million or more.
What gives? The NCAA's chief legal officer, Donald Remy, essentially declined to answer the question. "The facts, circumstances, issues, and practices being challenged in the class actions and other cases filed against the NFL are very different from the cases involving the NCAA," Remy said in a prepared question-and-answer sheet. "Moreover, the two settlements are very different, and comparisons between the two settlements would be very difficult."
Well, not that difficult. The main difference, as far as I can tell after a quick look at the paperwork, is that the NCAA wouldn't be protected against future head-injury suits brought by individual athletes.
The NCAA settlement "does not preclude players from filing individual suits against the NCAA for their injuries, which is huge for student-athletes," Steve Berman, the lead attorney representing the university athletes, said in his own prepared statement. "The stipulation, coupled with regular player health examinations provided by the medical-monitoring program, will benefit any players that choose to act individually in future actions."
That's a pretty big distinction. The NFL bought litigation peace. The NCAA, ponying up far less, did not.
Which is not to say that the NCAA settlement is a bad thing. It appears to be very constructive. In addition to concussion testing, it includes educational initiatives and money for research. Today's announcement follows recent news that the Indianapolis-based NCAA has urged its member schools to follow the lead of the Ivy League and limit full-contact football practice sessions—a further step designed to decrease head injuries.
The NCAA concussion deal requires the approval of a federal judge in Chicago who has been presiding over the student-athlete suits. A different federal judge, who sits in Philadelphia, still must give final approval to the NFL pact. These settlements don't make football a safe game to play. They might make it marginally less dangerous, while providing care for those who have been hurt.
Before it's here, it's on the Bloomberg Terminal.
LEARN MORE