Honda Projects Record Profit on Yen, Emerging Markets
Ma Jie and Yuki Hagiwara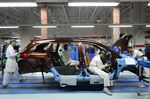 Honda Motor Co., Japan's third-largest carmaker, raised its profit forecast to the highest in seven years as the yen weakens and new models boost sales in emerging markets.
Net income will probably climb 4.5 percent to 600 billion yen ($5.9 billion) in the year ending March 31, the Tokyo-based carmaker said in a statement today. That compares with the 595 billion yen the company previously forecast and lags behind the 631.4 billion yen average of 25 analyst estimates compiled by Bloomberg.
Honda has introduced cars tailored for China, India and Indonesia since last year, betting the models will take share from rivals including Volkswagen AG and Toyota Motor Corp. and reduce its reliance on North America. The company has recalled vehicles related to defective airbags made by Takata Corp. and a software glitch leading to unintended acceleration that threatens to slow down the introduction of new models.
"The first impression was pretty good, at least in the first 30 seconds I look at it, but the details lead to a different impression," said Koji Endo, an auto analyst at Advanced Research Japan. "It was a bit disappointing, because upward revision was entirely thanks to the weaker yen."
Honda also raised its forecasts for revenue and operating profit, after revising its currency projections to 101 yen to the dollar and 136 yen per euro, versus the previous estimate for 100 yen and 135 yen, respectively.
Net Income
Net income rose 20 percent to 146.5 billion yen in the first quarter. Operating profit in the quarter rose 7.1 percent to 198 billion yen, beating the analysts' estimate of 185.3 billion yen. Sales rose 5.4 percent to 2.99 trillion yen, in line with analysts' estimates.
Honda's results compare with those of Nissan Motor Co., Japan's second-biggest carmaker, which yesterday reported a 37 percent gain in profit, driven by China and the U.S. demand. Toyota Motor Corp., Japan's biggest automaker, will report earnings August 5.
The automaker's stock declined 0.8 percent to 3,548 yen as of the close in Tokyo trading today, before it announced earnings. The stock has fallen 18 percent this year, compared with a 4.1 percent decline for the Nikkei 225 Stock Average.
In North America, Honda reaped 67.5 billion yen in operating profit last quarter, falling from 71.9 billion yen a year earlier.
Recall Costs
Profit was affected by the delay of the Fit and Acura TLX models in North America, Honda Executive Vice President Tetsuo Iwamura told reporters today in Tokyo. Honda is also recalling 3 million vehicles in 11 U.S. states to check for possible defects in airbags made by Takata, he said.
The automaker booked Takata airbag-related costs, which it declined to disclose, and will try to recoup the expenses from the parts maker this fiscal year, "though maybe not 100 percent," Iwamura said. Honda is also considering whether to continue buying airbags from Tataka, he said.
Back home in Japan, operating profit was little changed at 62.1 billion yen. Though sales of the new Fit rose, Honda this month recalled all of the cars and the Vezel hybrid models it has sold in Japan since last year over a software flaw causing unintended acceleration.
The call-back -- the fourth for the Fit and the second for Vezel -- may delay the introduction of new products, Iwamura said. Fit is Honda's top-selling model in Japan and about two-third of the sales are hybrids.
China Demand
In China, the world's largest auto market, Honda's sales extended gains last quarter, as a consumer backlash eased over a territorial dispute between Japan and China. Last year, its China deliveries rose to a record, fueled by the Jade wagon and Crider sedan, which Honda says are the company's first models tailored for the Chinese market.
Sales of the Accord -- which until three years ago was the top-selling midsized sedan in China -- slumped this year, as the initial versions of the car were more expensive than Nissan's Teana and Toyota's Camry. In late February, Honda pushed out a stripped-down Accord that started at about 180,000 yuan ($29,000), compared with more than 200,000 for earlier versions.
Honda expects to sell 900,000 vehicles this year and double annual sales in China to 1.3 million units in the three years through 2015.
In Asian markets excluding Japan, operating profit rose 21 percent to 65.3 billion yen, as deliveries surged in India and Indonesia on new models.
Asia Ex-Japan
Honda sales rose 40 percent in April-June quarter to about 40,000 units in India, helped by diesel versions of its City and Amaze cars. The carmaker is counting on the seven-seater, multi-purpose vehicle Mobilio introduced this month to further boost deliveries.
In Indonesia, sales rose 68 percent to more than 82,000 vehicles in the first half of the year, with more than half of sales from Mobilio, which qualifies for the government's new low-cost green car subsidizing program.
The operating loss in Europe narrowed to 1.49 billion yen from 9.7 billion yen loss a year earlier as the region has shown signs of bottoming out.
The company will halt production at one of the two production lines at the Swindon plant in the U.K. from autumn, in anticipation that it won't see any growth in Europe in the next two to three years, it said in March.
Honda also cut its motorcycle sales forecast today to 18.08 million units from 18.24 million.
(Corrects title of executive in 10th paragraph of story published yesterday.)
Before it's here, it's on the Bloomberg Terminal.
LEARN MORE