Herbalife Tumbles After Earnings Miss Estimates
Duane D. Stanford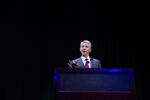 Herbalife Ltd. tumbled the most in three months today after its earnings missed projections, handing a minor victory to billionaire Bill Ackman in his campaign to take down the company.
Excluding some items, Herbalife posted earnings of $1.55 a share, missing analysts' estimates by 2 cents. The Los Angeles-based company also said yesterday that sales this year will grow by 8.5 percent to 10.5 percent, slower than the range of 10 percent to 12 percent it predicted in April.
The dimmer forecast follows an assault last week by Ackman, a hedge-fund manager who alleges that Herbalife is a pyramid scheme. Ackman, who has bet $1 billion against the company, made a more than three-hour presentation on July 22 purporting to show that the company is an Enron-style fraud. Investors brushed off his arguments, sending the stock up 25 percent in one day.
Herbalife Chief Executive Officer Michael Johnson, speaking on a conference call today, declined to provide new details about a previously disclosed inquiry by the U.S. Federal Trade Commission.
"We are confident that there will be a successful conclusion that will keep Herbalife on a path to success for years to come," Johnson said. "Herbalife is a legitimate, socially beneficial business model."
While yesterday's earnings didn't reflect on Ackman's allegations, they did pare some of the stock's gains. The shares fell 14 percent to $58.35 at the close in New York, the largest one-day decline since April 11. The stock has dropped 3.7 percent in the past 12 months.
World Cup
Distraction from the World Cup soccer tournament in Brazil and a new method to qualify for discounts in the U.S. both contributed to slowing sales volume in the Americas, Chief Financial Officer John Desimone said. Net income also was depressed by currency changes, including devaluation of the Venezuelan bolivar, and higher than expected taxes, he said.
The U.S. "was a little lighter than we expected," he said in an interview after the results were posted. "It was still the best quarter in our history."
Revenue rose 7.1 percent to $1.31 billion last quarter, missing analysts' projections. Sales volume fell 1 percent in North America and 7 percent in South and Central America. Net income dropped 17 percent to $119.5 million, or $1.31 a share, from $143.2 million, or $1.34, a year earlier.
Adjusted profit in the current year will be $6.17 to $6.32 a share, up from a previous forecast of $6.10 to $6.30, Herbalife said. Analysts estimated $6.30 on average.
Nutrition Clubs
Ackman's presentation last week centered on nutrition clubs, which Herbalife says are key to getting people to use its products daily. Ackman said the clubs are a front for an illegal recruiting scheme, designed to push large purchases of unsellable weight-loss powder. The sales enrich Herbalife and top distributors while defrauding mostly poor Latinos, he said.
The FTC and law enforcement also are investigating the allegations. Johnson has repeatedly denied running a pyramid scheme. Ackman didn't return an e-mail seeking a comment yesterday.
Before it's here, it's on the Bloomberg Terminal.
LEARN MORE