Xi Tells Army: Ditch the Flashy Medals
By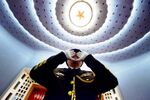 In the runup to the 84th anniversary of the founding of the People's Liberation Army on Aug. 1, 2011, then party secretary and top military chief Hu Jintao authorized a slew of new, fancy-sounding medals to pump up the egos of China's top army brass.
"Heroic model," "national defense on service," "keeper of the frontier," "emissary of peace," and "great mission" were just a few of the new military medals rolled out to celebrate People's Liberation Army Day that year, the People's Daily reported at the time. "Medals and certificate for first, second and third class merits were also redesigned and will be later on distributed successively to the army," the Communist Party's official paper said in July 2011.
Now new top leader Xi Jinping wants China to play a more assertive role and he needs a strong and professional military for that. But first he has to crack down on China's armed forces, widely seen as poorly trained, soft, and often corrupt.
The latest effort to whip the army into shape: China's first-ever regulations restricting the rampant issue of new military awards will take effect on Aug. 1, the Xinhua News Agency announced today.
"The rules stipulate that the number of awards and commendations should be controlled and awarded based on improvement of combat abilities," according to China's official news service. "More awards and commendations should be offered to combat troops, major operations and troops serving in remote areas or places where life is difficult," it explained, adding that public complaints about the excessive awarding of military honors were one reason for the new regulations.
As part of a larger crackdown on official corruption, this month authorities expelled top general Xu Caihou from the party on suspicion of bribery. "The PLA must not harbor any corrupt members. The PLA must be absolutely loyal, clean and reliable," said an editorial in the PLA Daily on July 1.
Then last Friday the central military commission's discipline body announced that officers must return any extra apartments in their possession. "Military and armed police officials and their families may only occupy one public housing unit in a single city, and its size must be appropriate for the official's rank," the PLA Daily reported on July 25.
Before it's here, it's on the Bloomberg Terminal.
LEARN MORE