Serena Williams Prepares for Return After Wimbledon Virus
Rob Gloster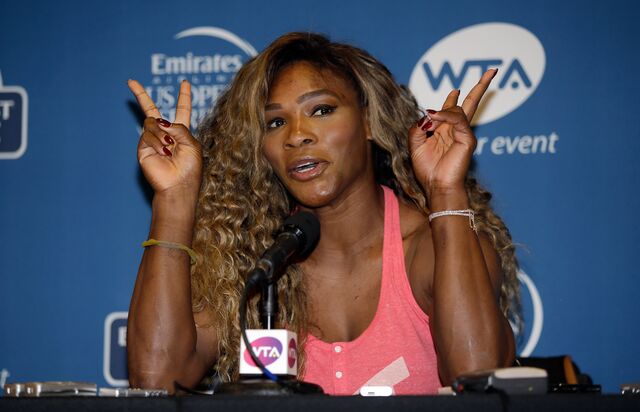 Serena Williams said she's feeling much better as she prepares her return to competitive tennis for the first time since she pulled out of a Wimbledon doubles match with an unspecified illness.
Williams, 32, will play Karolina Pliskova of the Czech Republic tomorrow night at the Bank of the West Classic at Stanford, California. She told reporters yesterday at a tournament news conference that she has recovered from a viral condition that left her disoriented on the court.
The 17-time Grand Slam champion dropped out of the Swedish Open in mid-July and has not played a singles match since June 28.
"I was really, really sick," said Williams, who remains the top-ranked women's player in the world. "The next three days I couldn't get out of bed."
Williams, who won two of tennis's four major tournaments last year but has yet to reach a quarterfinal in any Grand Slam event this season, lost to France's Alize Cornet in the third round of Wimbledon, her earliest exit there since 2005.
Three days later, she was unable to serve during a doubles match with sister Venus Williams that ended with their default after three games.
Serena Williams was not specific yesterday about the illness that forced the Wimbledon exit, and said she plans to have more medical tests after the season. Venus, who is two years older than Serena, said during the 2011 U.S. Open that she had been diagnosed with energy-sapping Sjogren's syndrome.
"A lot of things have been crossing my brain," Serena Williams said. "I do have to get a lot of tests done because of things that do run in the family, so I just want to make sure."
Lopsided Defeat
Serena Williams started the 2014 Grand Slam season with a fourth-round loss to Ana Ivanovic of Serbia at the Australian Open. Spain's Garbine Muguruza defeated her 6-2, 6-2 in the second round of the French Open, Williams's most lopsided defeat in a major.
If she fails to win the U.S. Open that begins Aug. 25, it would be only the second time since 2006 that she has been shut out of the major titles. The other time was in 2011, when she missed the Australian and French opens because of injury and illness.
"I am feeling pretty good about my game," Williams, who is a two-time defending champion at the U.S. Open, said yesterday. "But as you know, I am never feeling great about it."
Before it's here, it's on the Bloomberg Terminal.
LEARN MORE