Sarah Palin Launches Her Own Web-TV Channel
By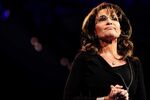 Sarah Palin is going rogue on the Internet, subscription required.
On Sunday, Palin announced on Facebook that she's creating an online news network. Subscriptions to the Sarah Palin Channel, which will be available to paying customers on computers, tablets, and smartphones, will cost $9.95 a month or $99.95 a year. In a video, the former vice presidential candidate and erstwhile governor of Alaska described the channel as an alternative to the mainstream media that will feature interviews with newsmakers, behind-the-scenes access to her political events, and video chats with fans. "Tired of media filters?" Palin wrote on Facebook. "Well, so am I. So, let's go rogue together."
Since leaving office in 2009, Palin has served as an on-again, off-again contributor to Fox News. By launching her own Internet news channel, Palin is following in the footsteps of former Fox News anchor Glenn Beck, who in 2011 left Fox and developed a subscription Web-TV network that is now known as TheBlaze. Beck's subsequent success at creating and distributing his own content without a traditional TV network as an intermediary has recently inspired other popular, and usually controversial, TV personalities to do likewise. In June, for instance, former Food Network star Paula Deen announced that she's starting an eponymous, subscription Web-TV network.
Palin probably won't limit herself to politics. In recent years, in addition to political commentary, she has also dabbled in the outdoorsy, reality-TV genre, teaming with Survivor creator Mark Burnett to produce Sarah Palin's Alaska for TLC. More recently she starred in a hunting and fishing extravaganza called Amazing America for the Sportsman Channel. Could similar content find a home on the Sarah Palin Channel? You betcha. "We'll also share some of the fun that goes on in the Palin household and a lot of our adventures in the great outdoors," Palin said in her Facebook video.
It's probably too soon to predict the unbundling of Fox News, which remains the dominant force in packaging and distributing small-screen conservative punditry. But if the Sarah Palin Channel succeeds, expect more right-wing media stars to begin migrating from pay-TV channels on cable to pay-TV channels on the Web. "I want to talk directly to you on our channel, on my terms," Palin said over the weekend. "And no need to please the powers that be."
Before it's here, it's on the Bloomberg Terminal.
LEARN MORE