#Skywriting: A Small Firm's Pitch to Put Hashtags in the Sky
by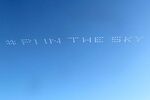 Patrick Walsh was a former flight instructor with some marketing experience when in 2008 he founded AirSign, a Gainesville (Fla.)-based advertising firm that puts marketing messages in skywriting. His pitch to corporate brands: Skywriting, a standby for beachside bars and restaurants, is eye-catching enough to turn smartphone-wielding pedestrians into social media shills.
AirSign scrambled five Grumman Tiger aircraft over San Diego last week to blanket the skyline with the social media hashtag #digdeeper as part of a campaign for Dig, a thriller premiering on the USA Network in the fall. Passersby, including the crowd in town for Comic-Con, posted smartphone photos to Instagram and Twitter. Traffic to the hashtag spiked, and Walsh, 34, took credit. "There's never been a way to supercharge a social media campaign like this," he says.
Walsh's 60-employee company also sells advertising on blimps, and banners towed into the sky by helicopters and airplanes. His past clients include Google, Uber, and Ford Motor. A San Francisco artist also commissioned AirSign to write out the numerals to mathematical constant Pi in the Sky. A typical message costs $3,000 to $5,000, and dissipates after 10 minutes. Walsh wouldn't say exactly what Dig paid for its skywritten hashtag, but said a campaign with 20 or so messages costs about $25,000. AirSign is on pace for $8 million in revenue this year.
The Comic-Con campaign represented a new spin on an old marketing gimmick, says Walsh. Since around the 1920s, skywriters have used a continuous stream of smoke to write messages in the sky. Planes could only carry so much of the oil used to produce smoke, and even an expert pilot in a tricked-out plane would put out only about 25 letters in a flight.
AirSign's pilots use a technique that Walsh likens to an old dot-matrix printer—writ gigantic. As many as five planes fly in formation, puffing out smoke at intervals controlled by computer. This method conserves the aerial ink and lets skywriters create letters that are 1,500 feet tall, he says, big enough to be seen at distances of 15 miles. "It's a great way to stand out above all of the clutter and competition."
Before it's here, it's on the Bloomberg Terminal.
LEARN MORE