Your Guide to the Best Marijuana Business Schools
By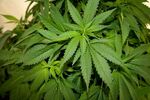 Among the newest players in the thriving legal marijuana trade is a crop of new programs that teach people how to do business in the pot economy. In a variant on the for-profit business-school model, some companies have started offering courses for several hundred dollars a pop to would-be weed farmers, salesmen, and venture capitalists.
The programs generally pitch seminars and one-on-one tutoring sessions as an opportunity for new entrants in the market to learn how to navigate a web of confusing regulations and how to build a dossier of important contacts. Many offer grower-specific classes that teach the science behind cultivating strains of cannabis that will keep customers sated. Surprisingly, they don't advertise joint-rolling tutorials. Perhaps less surprisingly, none is accredited by the Association to Advance Collegiate Schools of Business, the most prominent accrediting body for U.S. B-schools.
Here is a far-from-comprehensive guide (there are dozens of these schools) to the most high-profile pot B-schools, based mainly on their online branding and YouTube prowess.
School: Oaksterdam University
Nickname: No known alias, but the university crest is a lime green shield surrounded by a marijuana-leaf wreath and three open books bearing the word "Ca-na-bis," presumably the school's motto.
Cost: Ranges from $495 for a basic "outdoor horticulture seminar" to $1,195 for a 14-week semester of classes.
The Upside: Company founder Richard Lee is so committed to the cause, he seems willing to go to jail for it. The government has raided Oaksterdam twice in the past two years and this month sent agents from the Internal Revenue Service, the Drug Enforcement Agency, and the U.S. Marshals service to Oaksterdam with "a battering ram, a sledgehammer, power saws and a locksmith," according to a San Francisco Chronicle report.
School: Marijuana Business Academy
Nickname: MMJ Business Academy
Cost: $299
The Upside: "It's easier than searching online," said one customer, sounding pleased with the informational value of an MMJBA classes in a YouTube clip. "In 5 years I see myself as a millionaire, growing hundreds of acres of hemp," said another, shaking her head almost in disbelief.
Claim to Fame: Founder KC Stark is known to radio hosts as "the Steve Jobs of the medical marijuana world," wears discreet marijuana ties, and is the unconfirmed originator of the phrase "canna-business," which should probably be in a song by now.
School: Medical Marijuana Tampa
Nickname: Cannabis U
Cost: $499
The Upside: The logo is half blue cross/blue shield insignia, half marijuana plant.
Claim to fame: Botanist Carlos Hermida, whom NBC News calls "Florida's self-proclaimed 'first professor of Cannabis.'" He holds an MBA from Nova Southeastern University, had three majors as an undergrad at the University of South Florida, and previously worked as a "Budtender" at the Nirvana Wellness Center in California.
School: Cannabis Career Institute
Nickname: CCi (with a marijuana leaf as the dot over the "I")
Cost: $300
The Upside: The Cleveland seminar. "It feels good to be a part of history in the making with the team on the front lines helping to make the world a much better place!" said Preston, an Ohio attendee. "Sadly I had to leave right before the edibles part," said another.
Claim to fame: Jason Scoby, aka "the bud whisperer" or "a sommelier," according to CCi's website. He puts a premium on "spear-type buds" with hairs that have turned a brownish color, which means they've probably been spared from a mite attack.
School: 420 College
Nickname: Probably just "420 College"
Cost: $250
Perks: Convenient two-day sessions. "What Can You Learn in Just 2 Days? ALL the important 'Stuff' to help insure your success!" notes the company website.
Claim to fame: Instructor Alexandra Sussin, who sometimes goes by "Miss Tropical420" and is a firm backer of "#GirlsWhoGrow" and "#GirlsWhoCultivateandEducate."
Before it's here, it's on the Bloomberg Terminal.
LEARN MORE