Selling the L.A. Clippers: Shelly Sterling's Long-Shot Legal Strategy
By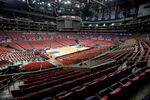 Closing arguments in the California probate court trial between Donald and Shelly Sterling are expected to begin today. The trial is ostensibly over whether Shelly followed the rules of the family trust when she had Donald declared mentally incapacitated and removed him as a co-trustee. The larger question, however, is whether Donald can find a way to block Shelly's sale of the Los Angeles Clippers to former Microsoft Chief Executive Officer Steve Ballmer for $2 billion. Shelly could win a decision from the judge granting her sole authority over the trust and, if Donald appeals, still fail to get the deal done before the National Basketball Association's Sept. 15 deadline.
Donald has vowed never to sell the team and to sue the NBA until the day he dies. His legal strategy has been to place as many hurdles as possible between Shelly and a closed sale, even if he hurts himself in the process. After his wife removed him from the trust, he revoked it, a move that potentially exposes the two of them to $500 million in bank loans coming due at once. To counter Donald's stalling tactics, Shelly and her attorneys, if they win the decision, plan to ask Judge Michael Levanas to grant her the power to go ahead with a binding sale despite any appeals from Donald.
Normally, under California trust law, everything holds while appeals are pending. But there is a provision, 1310(b), that allows a judge to grant authority to a guardian or trustee to act "as if no appeal were pending." Given this power, Shelly could go ahead with the sale to Ballmer and it would be valid no matter the results of Donald's appeal or any other legal action by him. The trouble for Shelly is that judges are hesitant to use this authority. "Most probate judges would prefer to maintain the status quo while everything else is pending," says Keith Davidson, a partner at the California law firm Albertson & Davidson and an expert in the state's trust laws.
According to Davidson, 1310(b) comes into play rarely, either to stop ongoing theft from an estate or to allow for an uncontested transaction to go forward. "When we usually see it," he says, "there is a large piece of property that everybody agrees needs to be sold, but everybody is arguing about how it should be distributed. The court can say, 'Let's go ahead and sell it and then we'll hold it in an escrow or in a blocked account and then you can go ahead and do your appeal.'" The basic idea is to prevent damage to an estate while appeals are pending.
Shelly's argument is that running out the clock on the Ballmer sale would be damaging. Her lawyers have worked to demonstrate to the court that nobody but Ballmer would pay $2 billion for the Clippers. Dick Parsons, the team's interim chief executive, testified that Ballmer's offer was a "knockout" and that the team is at risk of going into a "death spiral" as sponsors, players, and the coach flee a Sterling-owned franchise. And Anwar Zakkour, a Bank of America investment banker who consulted on the sale, noted that the conditions for the $2 billion bid, a blind auction with a short deadline, would be hard to replicate in a future sale. Donald's answer, in essence, has been to say "Who knows?" Maybe he could sell the team for $5 billion.
The burden, however, is on Shelly. Trust lawyer Davidson says that in cases where he has argued that an appeal is as good as a loss for his client, judges have still ruled against him. "You have to overcome the knee-jerk default of the court," he says, "and that is not always easy to do."
Before it's here, it's on the Bloomberg Terminal.
LEARN MORE