It's Time to Fly With Airline Stocks
by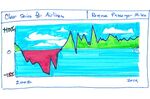 Sir Richard Branson's Virgin America will sell shares in an initial public offering, seven years after launching his airline into the jaws of the recession in 2007.
Here's the question: Should you buy?
Today's announcement effectively amounts to a victory lap for Sir Richard's young airline, having survived the most severe decline in consumer spending since the Great Depression. It also testifies to the dramatic rebound for the industry as a whole. Global airlines have seen revenue passenger miles expand 5-to-7 percent each of the past 5 years, according to the International Air Transportation Association.
Times are clearly good for airline stocks. Today's news comes just one week after American Airlines Group Inc. (AAL) announced a $1-billion stock buyback, and its first dividend since 1980. Across the industry, profits are up double digits, even more at American.

Former American Airlines Chief Executive Officer Robert Crandall joined Betty Liu this morning on In The Loop. He explained the industry is finally earning a return on capital, having reduced excess capacity and upgraded aircraft to cut fuel consumption by as much as 20 percent. United Continental Holdings Inc. (UAL) Chief Executive Officer Jeffery Smisek made similar comments to me when we flew together last year on the re-launched 787 Dreamliner.

The CEOs are optimistic, so again we pose the question: Time to buy?
Virgin America has not yet set a date for its proposed initial public offering, but investors can choose from among 114 publicly traded airlines globally. To narrow the field, we sorted them according to analyst ratings. We found 3 with a predominant number of buys, and more importantly, no sells: Delta Air Lines, Inc. (DAL); Japan Airlines Co. Ltd. (9201 JP); WestJet Airlines Ltd. (WJA).

As Stifel Nicolaus & Company airline analyst Joseph Denardi told us this morning on In The Loop, airlines are "now well positioned" to leverage significantly more efficient networks, and to continue profiting as the global economy expands. We agree.
Before it's here, it's on the Bloomberg Terminal.
LEARN MORE