FAA Suggests Southwest Pay $12 Million Fine Over Jet Repairs
By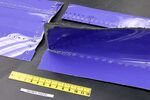 Federal regulators are proposing a $12 million fine for Southwest Airlines related to a skin-repair method that was used on dozens of its airplanes.
The suggested penalty dates to 2006 on skin-sealing work Southwest hired a contractor to perform on 44 of its Boeing 737s to eliminate potential cracking of the aluminum on the planes' hulls. The contractor, Aviation Technical Services, did not follow approved procedures for replacing the skins and did not properly stabilize the planes while making the repairs, the Federal Aviation Administration said.
The FAA said Southwest flew the planes on "numerous" flights in 2009 and that the agency later approved the repairs after the airline provided proper documentation that the work had met safety standards. But the aircraft did not meet compliance for a certain period while they were being flown, which led to the fine announced on Monday. The agency also found an improper ground-wiring problem on two other Southwest planes.
"Having fully resolved the repair issues some time ago, none of the items raised in the FAA letter affect aircraft currently being operated by Southwest Airlines," spokeswoman Brandy King says. Southwest has 30 days to respond to the allegations. Airlines often negotiate lower penalty payments with the FAA.
Southwest and the FAA have a history when it comes to maintenance work and oversight. In 2008 the FAA proposed a then-record $10.2 million fine after finding that the airline had operated some 60,000 flights on 46 planes that had not received mandatory repairs. That case also served as a major embarrassment for the agency when its inspector general discovered that the FAA staff overseeing the Dallas-based carrier had grown too tight with the company and were not doing their jobs appropriately. Southwest ultimately paid $7.5 million in that case.
In 2010 the FAA proposed a $24.2 million fine against American Airlines related to work on almost 300 of its MD-80s aircraft. American paid $24.9 million last year to settle dozens of FAA oversight claims—totaling more than $150 million—that were bundled as part of its Chapter 11 bankruptcy reorganization.
Before it's here, it's on the Bloomberg Terminal.
LEARN MORE