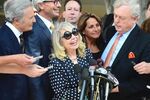 In a ruling just issued from the bench in probate court in California, Judge Michael Levanas struck down Donald Sterling's attempts to block his wife Shelly from selling the Los Angeles Clippers to former Microsoft chief executive officer Steve Ballmer for $2 billion. Levanas ruled that Shelly Sterling had played by the rules of the family trust that owns the Clippers when she had Donald declared mentally incapacitated and removed him as co-trustee before agreeing to sell the team to Ballmer. The judge also used a rarely invoked power to allow Shelly to go ahead with the sale, despite any pending appeals from Donald.
The ruling is a resounding victory for Shelly Sterling in the occasionally bitter legal dispute with her husband. It moves the National Basketball Association closer to resolving the Clippers scandal before its new season begins in October. The league's Sept. 15 deadline for closing the sale to Ballmer had appeared to be in danger of passing while Donald Sterling dragged out the court battle. "We are pleased that the court has affirmed Shelly Sterling's right to sell the Los Angeles Clippers to Steve Ballmer," NBA spokesman Mike Bass said in a statement after the ruling, "We look forward to the transaction closing as soon as possible."
Donald Sterling, who has vowed to fight the league until his death, can appeal today's decision and will probably try to do whatever he can to stop the deal. His protests, it appears, no longer matter.
Before it's here, it's on the Bloomberg Terminal.
LEARN MORE