Does Virgin America Have Too Many Frills to be a Good Stock?
by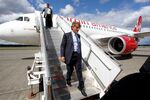 After turning a small profit in 2013, Virgin America is ready to go public. One question the seven-year-old airline may face from investors: Are you folks too nice to travelers to make money?
The U.S. airline industry's robust turnaround has come from a well-documented proliferation of new fees, higher fares, less competition, and fewer flights on many routes. In other words, what's good for a passenger is typically awful for an airline's finances—and vice versa. That tension has played out for years at JetBlue Airways, which styles itself as a "hybrid" carrier offering spacious legroom and free satellite TV and snacks. JetBlue—like Virgin America and Southwest—falls into the middle tier of airlines, between the extreme discounters, such as Spirit, Frontier, and Allegiant, and the full-service global airlines, such as American, Delta, and United.
JetBlue and Virgin America garner a fare premium on only some of their routes—which means that the frills squeeze profits. (That's one reason JetBlue is likely to begin charging a first bag fee next year.) In its registration filing with securities regulators on Monday, Virgin America said its cost structure and superior in-flight service help it to stand out from competitors. "We believe that we can effectively compete with both legacy airlines and other [low-cost carriers] in our business and leisure travel markets because of our premium product, brand recognition and competitive cost structure," the airline said.
Virgin reported a $10.1 million annual profit in 2013, its first since it began flying in mid-2007. The carrier lost money in the first quarter this year due to the severe winter weather. Most of the proceeds from the offering, the size of which was not disclosed Monday, will go to repay the airline's largest stakeholder, Cyrus Capital Partners, which owns 72 percent of the company. Richard Branson's Virgin Group owns 22 percent. Chief Executive Dave Cush and Chairman Donald Carty together own 13.2 percent.
Virgin America's cost per available seat mile, an industry metric that averages expenses across total flight miles, was 11.76¢ in the first quarter, compared with 11.9¢ at JetBlue and 11.3¢ at Alaska Airlines, according to data compiled by Bloomberg Intelligence. The Big Four U.S. airlines, including Southwest, averaged 13.45¢ in the second quarter. Next month, Virgin America expects to learn whether its largest group of employees, its 850 flight attendants, have voted to join the Transport Workers Union. If the workers unionize, that could boost their salaries and other costs.
The advantage that low-cost airlines once enjoyed is no longer material, given the bankruptcy restructuring by the three biggest carriers, says Seth Kaplan, managing partner of Airline Weekly, an industry journal. "Today those restructured legacy airlines' cost structures just aren't all that high," he says. "So it's now a revenue game, not a cost game, in Virgin America's big markets, and that is a game the legacy airlines are best positioned to win." Moreover, Virgin America targets high-paying corporate travelers in the biggest cities—the same demographic that each of its larger rivals wants to own.
The carrier says it serves only 15 of the largest 50 U.S. metro areas and sees plenty of room for increased revenue. Virgin America plans further expansion later this year from Dallas and New York City, where it was able to gain additional gates and airport slots as part of the divestments federal regulators required to allow American Airlines to merge with US Airways.
In its filing, Virgin America hinted that some of the IPO money is likely to go for upgrading its seat-back entertainment monitors with "swipe" touch capabilities, as on your phone and tablet.
Before it's here, it's on the Bloomberg Terminal.
LEARN MORE