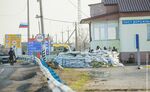 As of last March, a troubling 77 percent of college-educated Americans were unable to locate Ukraine on a world map—even though two-thirds of the country claimed to be "paying close attention" to the unfolding crisis there.  
CityLab readers are likely a more-informed-than-average bunch when it comes to geography—or at least more interested. Which is why you might want to check out LiveUAMap.com, a website that's been live-mapping events relevant to the conflict since last February, after former pro-Russia President Viktor Yanukovych was ousted by popular protests.

Created by a team of software engineers based in Dnipropetrovsk, Ukraine, the site mainly uses Twitter to aggregate and chart the locations of deaths, bombings, fires, arrests, and even chilling photographs taken by civilians—like the one of Donetsk Airport below.
Each event is also categorized and assigned a color—red or blue—depending on which side of the conflict it pertains most to: Red for Russia and its supporters, Blue for Ukraine and its supporters. Users can also set a "clock" to view past events all the back to May.
The site describes itself as a "nonprofit, volunteer-run project of civic journalism." Rodion Rozhkovsky, one of its creators, described by email the motivation for devising the map:  
Ukrainian revolution was going on from 21 of November 2013. In the end of January there were major escalations, and from "quite local" squares and streets of Kyiv it spread to all of Ukraine. So it was quite difficult to watch where is what in regular news. From Lviv to Donetsk, from Yalta to Chernyhiv: deads, fights, shootings, capturing of cityhalls and region administrations.
Rozhkovsky also felt there was a dearth of Ukrainian sources in English-language reporting on the crisis. Most information was being relayed by Russian outlets, he said, so a more balanced approach was needed. Toward that end, the algorithms that populate the map use both Ukranian and Russian sources (again, mostly Twitter, but also local news and Facebook posts), and then translate them into English.
LiveUAMap also looks for at least two independent sources in order to verify an event actually happened—though there have been errors. When MH-17 was shot down on July 17, the site initially reported it as a different plane. It corrected the mistake almost immediately. Still, LiveUAMap labeled the event in red, signifying it as an act of pro-Russian rebels, a conclusion for which there still hasn't been strong evidence.
Certainly, the site should be regarded as a project of citizen journalists rather than an objective news source. But for the distant bystander, it's an immediate, powerful window into a crisis that just might turn into full-blown war. Rozhkovsky says that if that happens, it could be dangerous for his team to continue the live map, but that they probably still would. "Detailed chronology of conflicts could prevent future conflicts," he says. Here's hoping.
(Top image courtesy of Flickr user Sasha Maksymenko.)