business
Stop Squabbling, Mom Tells Troubled Biotech: 'Just Get My Kid the Drug'
Paul M. Barrett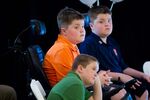 Imagine for a harrowing moment that your child has a debilitating, deadly disease for which there's no cure. A biotech company has a drug that might arrest your child's decline, maybe keep him out of a wheelchair, possibly add years or decades to his life. It would be tough—no, unbearable—to watch infighting at the company impede access to the medication.
"It's heartbreaking," Mindy Leffler told me by phone over the weekend. Her son Aidan, 11, has Duchenne muscular dystrophy (DMD), an inherited muscle-wasting disease that afflicts 1 in 3,500 boys born in the U.S. DMD robs its victims of the ability to walk in early adolescence. Pulmonary or other complications typically kill sufferers in their twenties.
Leffler was reacting to a regulatory filing and related news reports about the firing of a key executive at Sarepta Therapeutics, a biotech company in Cambridge, Mass. Sarepta is seeking Food and Drug Administration approval for a DMD treatment that could keep Aidan on his feet and extend his life. On Thursday, Sarepta disclosed that it had fired its chief scientific officer, Arthur Krieg. The company didn't explain the move.
Krieg, a physician, told the Wall Street Journal he "had serious disagreements" with Sarepta's chief executive, Chris Garabedian. The Journal quoted another former executive complaining about the office environment at the small biotech. An assertive leader, Garabedian has driven the company's closely watched campaign to obtain FDA approval for the DMD treatment, eteplirsen, which happens to be Sarepta's main bet for commercial success. The drug has shown promising results in a long-running trial, although some skeptics question the trial's results because it involves only 10 boys.
Sarepta has survived—often just barely—for more than three decades without an FDA-approved drug. It has identified eteplirsen and a family of related medications in earlier stages of development as potentially lucrative breakthroughs. (Two rival companies are seeking FDA approval for other DMD treatments, but those drugs have yet to show clinical-trial results as encouraging as Sarepta's.) Investors have obsessively monitored eteplirsen's progress, pushing Sarepta's market value up and down by hundreds of millions of dollars at a time, depending on the FDA's at-times-equivocal utterances about the company's research.
Now, with Sarepta poised to seek provisional FDA approval and launch a new set of eteplirsen trials, the Krieg departure creates at least a perception of corporate instability. That, at least, is how the Journal cast the development. The newspaper reported his firing as "the latest of several departures involving senior employees over the past year." The Journal described Krieg as "heavily involved in helping prepare preclinical data for submission to the FDA in support of approval for eteplirsen."
Having lately become acquainted with Garabedian and several parents of boys with DMD, I did some poking around of my own. It's true that Garabedian's single-minded focus on eteplirsen—combined with with his personal intensity—has rubbed some of his subordinates the wrong way, according to multiple people at the company and knowledgeable investors who agreed to discuss confidential matters on the condition of anonymity. Although he has deep industry experience and unimpeachable dedication, Garabedian lacks formal scientific credentials. He's a business guy. That bothers some colleagues with more impressive academic pedigrees, including Krieg.
Some senior Sarepta employees have gone so far as to go behind Garabedian's back to complain to members of the company's board of directors about the CEO's "management style," according to the company insiders and investors. That has led to expressions of concern from certain board members and further unease in the ranks. It's not a good dynamic, especially when Sarepta is supposed to be finishing off its paperwork for the FDA.
If a majority of the board loses faith in Garabedian, he could be out of a job himself. That, it seems to me, would be a terrible shame, because he's a smart, talented leader who in less than four years as CEO has taken an also-ran company to the verge of real success in a field that matters. Without him, it's difficult to see Sarepta getting FDA approval for eteplirsen anytime soon.
I'll admit that my perspective is shaped in part by the opinions of observers who have followed Sarepta's fortunes with an avidity bordering on obsession: the Duchenne parents. Working through foundations and advocacy groups, DMD families across the country have maintained constructive pressure on both the FDA and Sarepta to move swiftly on eteplirsen. "Based on my personal interaction with Chris Garabedian, I know he's doing everything he can to accomplish the one goal that matters," Leffler said. "I trust his judgment over that of people who want to do business as usual."
"From a patient-advocate point of view, we are completely supportive of the CEO's decision to terminate Dr. Krieg," Leffler's friend and ally, Christine McSherry, told the Boston Business Journal. "We have complete confidence in [Garabedian]." Like Aidan Leffler, McSherry's wheelchair-bound son, Jett, 19, has DMD and might benefit from eteplirsen.
While Krieg was a senior figure at Sarepta, he wasn't centrally involved in the eteplirsen program or dealings with the FDA, according to former colleagues. He focused on more basic research. Corporate reshuffling isn't pleasant, but in the big scheme of things, it's not as important as whether a life-extending drug gets to people who need it. Krieg's departure may eliminate a source of distraction and allow the company to move beyond a period of infighting, one longtime Sarepta investor told me.
Mindy Leffler is understandably anxious. She's waiting to enroll Aidan in the next eteplirsen trial, which Sarepta has said will start in the near future. "Every week that goes by, my son gets a little weaker," she said. "I wish the executives who are worried about management styles would spend some time in my home."
It's time to set aside personal antagonisms at Sarepta and do the job, Leffler added. "Just get my kid the drug."
Before it's here, it's on the Bloomberg Terminal.
LEARN MORE