Tech Digerati's Top Tenant-Tossing Landlords Outed in San Francisco
by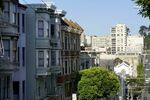 There's a word in San Francisco for when a tenant gets evicted from a rental unit without cause. It's called getting "Ellised," coined for the Ellis Act, the 1985 California law that permits property owners to kick out tenants if the owner takes the dwelling off the market. The term has become one of the dirtiest words in left-coast urban politics. It signifies the legal cudgel wielded by landlords to dislodge hapless renters from their homes so the owners can escape rent control and cash in on today's soaring property values.
Now anti-gentrification activists in San Francisco are naming names. Researchers with the Anti-Eviction Mapping Project, housed at the San Francisco Tenants Union in the city's hotly contested Mission District, have scoured public records to come up with lists of the city's leading Ellis Act abusers. Guess what? Tech-company employees, the gilded digerati of the Golden Gate, are leaders of the pack.
I haven't vetted the group's research with the original source documentation. But its findings are certainly consistent with the rapid rise in Ellis Act evictions that have coincided with San Francisco's tech boom in recent years. In the 12 months ending in February, Ellis Act evictions and those for remodeling properties rose 56 percent from the previous year, to 654 displacements, according to a city report.
Erin McElroy, who runs the Anti-Eviction Mapping Project, says the project's researchers have taken pains to pierce the thick veil of LLCs and other corporate shells that shield property ownership. The group even withdrew one couple from its "Dirty Dozen 2.0″ list of tech transgressors after the married landlords relented and withdrew eviction filings for five immigrant families on federal rental support until new accommodations could be found for them.
"This isn't as much about shaming people as it is about holding people in power accountable and not letting them hide behind the masks they create," says McElroy, 31, who arrived in San Francisco from Massachusetts eight years ago. Her group compiled the list of tech evictors this spring amid widely reported protests against the private Silicon Valley commuter buses plying San Francisco streets. The list's purpose: to refute claims by tech companies that rising rents and evictions were caused by landlords, not tech workers.
McElroy says her research shows that seven out of 10 Ellis Act evictions occur within four blocks of a tech-company bus stop and  that rents have been rising about 20 percent a year in the tech-commuter neighborhoods—about double the rate of the city as a whole. "Our time-lapsed maps show the crisis," she says.
The most prolific tech evictor on the group's "Dirty Dozen" list—now down to 11—is a longtime chip-company executive named Ronald Jankov. With a partner, Jankov has initiated evictions in 28 units in three separate buildings since 2007, according to the Anti-Eviction Mapping Project's website. Jankov, who was a senior executive at Broadcom after being president and chief executive officer of NetLogic Microsystems, did not return messages left on his voice-mail.
Seven of the 11 evictors on the tech list work—or worked—at Google. Last week, my colleagues Karen Gullo and Dan Levy wrote about a Google executive, lawyer Jack Halprin, who purchased a seven-unit building in the Mission District for $1.5 million, moved into one of the apartments and filed Ellis Act evictions against the tenants in the other units. Some of the renters, because of rent control, were paying as little as $757 a month, a fraction of the going rate in the area. One Halprin tenant, a teacher named Claudia Tirado, crashed a big Google developer's conference in June with a large sign saying, "STOP JACK HALPRIN FROM EVICTING SF TEACHERS!" Halprin didn't return voice-mail messages.
Just two of the 11 evictors on the tech list got back to me for this article. One, who refused to be named, pointed out how San Francisco's rent control laws—which prohibit buyers of buildings to raise rents on existing tenants, even if the new owner's expenses vastly exceed the building's income—encourage Ellis Act evictions. The second respondent, a 39-year-old investment consultant named Lyman Jung, conceded that he evicted tenants from the two-unit building in which he, his wife, and baby now live. He and his wife, a Google Web designer, had to take out a home-equity loan to pay one of the evicted tenants almost $50,000 for two years of future rent, Jung says.
"I don't know why we're on that list. We're just average people," he says. "The idea was to have more space for our family."
Before it's here, it's on the Bloomberg Terminal.
LEARN MORE