Seattle City Council Appeals to Bezos Over Subcontracted Amazon Security
By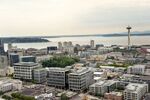 Along with upsetting investors by reporting a quarterly loss, Amazon drew some unwelcome attention this week from hometown politicians. In a letter to Chief Executive Jeff Bezos, Seattle's nine city council members declared themselves "deeply concerned" over alleged mistreatment of subcontracted security workers who patrol the company's headquarters there.
At issue are claims by the Service Employees International Union that Security Industry Specialists, a California-based firm contracted by Amazon and other tech companies, illegally punished workers for trying to organize and discouraged them from talking about the union. "As one of Seattle's largest employers," the council members wrote, "we ask that Amazon take full responsibility for ensuring a respect for human rights and national labor law on behalf of your direct and subcontracted employees alike." That letter follows meetings between council members and pro-union SIS workers, and an unanswered June letter to Amazon from Seattle's Human Rights Commission.
Amazon and SIS did not immediately respond to inquiries. In a "Union Facts" page on its website, SIS accuses SEIU of pursuing "a campaign of lies and deceit against SIS."
Unions and their allies have long argued that current U.S. law fails at enabling workers who want collective bargaining to secure it, and at protecting workers when they try. The SIS effort is one of an array of major union campaigns aimed at leveraging a mix of media, political, consumer, and workplace pressure to shield pro-union workers from retaliation and coerce companies to come to the table. SEIU's focus on Amazon (and fellow SIS client Google) also exemplifies a recent trend in labor activism: pressuring high-profile companies over conditions throughout their supply chains.
Seattle's move seems largely symbolic—it's a letter, not legislation. Given the rapid growth of Amazon's real estate footprint and workforce in the city, politicians who really wanted to could find ways to make life difficult for the Seattle-based juggernaut. But getting them to do so could be a heavier lift than convincing them to sign a letter voicing concern.
Before it's here, it's on the Bloomberg Terminal.
LEARN MORE