Renzi's Stimulus to Prevent Italy Contraction in 2014, Aide Says
Lorenzo Totaro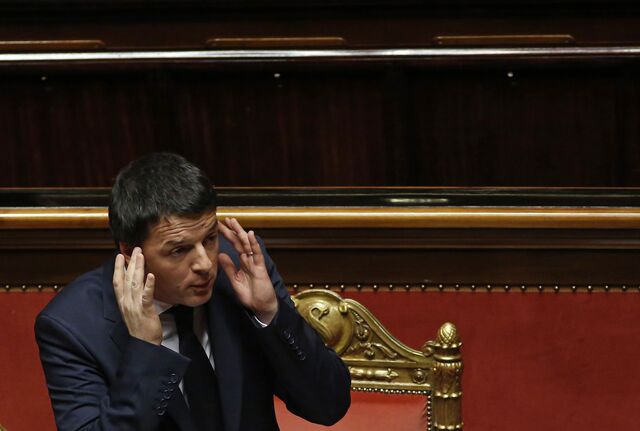 Prime Minister Matteo Renzi's 10 billion euros ($13 billion) of tax cuts to low-income earners will allow Italy to narrowly avoid a contraction this year, the premier's chief economic adviser said.
"Without that measure, we would forecast an even worse economic scenario" than the 0.2 percent rise projected this month by the country's central bank, Filippo Taddei, head of economic policy in Renzi's Democratic Party, said today in a telephone interview from Bologna, Italy. "GDP would rise no more than 0.1 percent this year" with no intervention.
Earlier this year, Renzi's government passed a labor tax cut worth 10 billion euros annually in an attempt to revive domestic demand and spur growth after Italy's longest recession since World War II. Renzi admitted for the first time in an interview with Corriere della Sera yesterday that 2014 gross domestic product is unlikely to rise as much as the 0.8 percent estimated by the government in April.
Warning bells had already sounded with the Bank of Italy citing "considerable uncertainties" in its July 18 economic forecast, and the International Monetary Fund's World Economic Outlook update predicting a GDP increase of just 0.3 percent for the euro-region's third-biggest economy.
'New Projections'
"It makes sense to think that those new projections are the most likely ones," said Taddei, an assistant professor of economics at the School of Advanced International Studies at Johns Hopkins University in Bologna, Italy. Renzi "just acknowledged it."
The country's economy shrank 0.1 percent in the first quarter, marking a return to the contraction Italy had emerged from in the last three months of 2013. Italy's preliminary GDP data for the second quarter is scheduled to be published Aug. 6. Lackluster growth could prompt economists to further cut their 2014 GDP forecast bringing it in line with the 0.2% increase estimated by Italy's central bank, Taddei said.
"Things could go worse, but also better than that, given that that GDP forecast is an average within a range of projections," Taddei said. "Pessimism is Italy's national sport, but we can even expect something better than that."
Taddei also said that the sluggish economic performance won't force Italy to pass further spending cuts or increase taxes this year to meet its deficit targets as automatic stabilizers included in the budget law would kick in if needed.
He added that Renzi's government is still committed to cut spending in order to reduce taxes on labor for both employers and employees by as much as "two percent of GDP or a total 30 billion euros annually".
Before it's here, it's on the Bloomberg Terminal.
LEARN MORE