JetBlue, the 'Nicer' Airline, Needs You to Get Ready for a New Bag Fee
By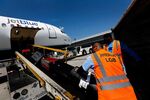 The irresistible allure of checked-baggage fees may finally be circling JetBlue Airways. The carrier, known for its blue potato chips and relatively spacious legroom, is exploring the revenue potential of what it calls new fare "buckets" and "families" as a way to bundle services—including luggage—and increase profitability.
The airline currently charges for a second suitcase but allows travelers to check one for free. The change, which would probably come sometime in 2015, would leave Southwest Airlines as the only big carrier that doesn't charge a fee for checking a bag. "If you chose to buy a bucket without attributes and show up with a bag, you probably should pay for it," JetBlue Chief Financial Officer Mark Powers told my Bloomberg News colleague Mary Schlangenstein today. A JetBlue spokesman says the airline has not decided what will be included in its fare bundles.
JetBlue appears to be warming to a first-bag fee to help boost its profits, which have consistently lagged what Wall Street has considered appropriate given the industry's consolidation and solid profitability. The airline's stock—up 32 percent this year—has also trailed that of its domestic rivals. While JetBlue commands a fare that's premium to larger rivals on some routes, particularly to Florida, it also flies in many markets where it does not. That's fueling a need for better financial returns. Moreover, JetBlue is willing to bet that even with a fee for a bag, many people will still find the carrier far more appealing than squeezing into the back of a United, American, or Delta flight.
"What has happened over the last several years is, as some of our competitors have taken away more, the gap between what we offer and what they offer has increased," JetBlue President Robin Hayes said on a conference call with analysts on Thursday. During the call, JetBlue executives pointed to the flexibility they would gain with new software allowing different products and services to be bundled, common on many European carriers and much like American Airlines does with its Choice Essential and Choice Plus fare bundles. Choice Essential, for example, offers one checked bag and boarding with the first group of economy travelers.
Fare buckets, with new fees, are also more financially attractive to JetBlue than adding seats to its airplanes, a strategy that's gained wide popularity across the industry, including at Southwest. JetBlue believes that "things like fare families is a much bigger source of immediate value generation" than adding seats, Hayes said. Still, Cowen & Co. analyst Helane Becker isn't certain that the airline will be able to make the switch to fees. "[G]iven the company's loyal customer base and brand focus we believe it will be difficult to implement a lot of what the Street is looking for," she wrote today in a client note.