How Israel Persuaded Airlines the Tel Aviv Airport Is Safe
By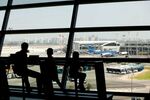 After a rocket fired by Hamas landed a mile from Tel Aviv's Ben-Gurion International Airport on Tuesday morning, airlines in the U.S. and Europe suspended flights to Israel, saying it was too dangerous. The next day, Israel's Civil Aviation authorities sent a memo to international airline regulators and airlines, making the case that Ben-Gurion is well-defended and that travel is safe.
 
Addressed to "All international aviation regulating bodies and foreign air carriers operating to Israel," the memo (PDF) was signed by Giora Romm, director general of the Civil Aviation Authority and a former pilot and officer in the Israeli Air Force. It was provided to Bloomberg Businessweek on Friday by an Israel-based employee of an international airline, who asked not to be identified because he was not authorized to release it. Romm did not respond an e-mail late in Israel's day, and the CAA did not answer the phone. In the memo, Romm wrote:
The Iron dome launch batteries covering Ben-Gurion Airport operate under a specific set of procedures which I cannot go into in detail due to security reasons. I would like to note, however, that out of over 2,250 rockets fired from Gaza into Israeli territory (a portion of which have been directed at Israel's center), not a single one has landed in Ben-Gurion Airport.
Israel's ability to defend Ben Gurion appears to have played a critical role in persuading U.S. officials to end the flight ban, which had caused anger in Israel. The country also expanded an area over the Mediterranean Sea where aircraft could hold if the airport were compromised, the airline employee said, and it has reconfigured arrival and departure routes in response to the conflict.
 
The memo also addressed the rocket attack near the airport:
The July 22nd rocket attack impacted at a distance of approximately one mile from the airport's outer perimeter fence. The Israeli Air force, responsible for intercepting the rocket via the Iron Dome system, was aware of the projected impact point almost three minutes beforehand, and realized that it would hit outside Ben-Gurion's borders. In this particular case, the Air force chose not to intercept the rocket, for calculated reasons completely unrelated to Ben-Gurion.
Airlines don't base their flight plans strictly on government recommendations, a point emphasized Thursday by the chief executive officers of American and Delta during conference calls to discuss financial results. Moreover, many commercial pilots are former military aviators who would refuse to fly into a particular location if they did not consider it safe.
The memo also noted differences with the Malaysia Airlines MH17 shoot-down, which has everyone in the airline industry on edge.
Malaysian Airlines flight MH117 was shot down by a Surface-to-Air missile battery (designed expressly for the purpose of shooting airplanes out of the sky), whose crew actively guided the missile to hit its chosen target. None of these factors apply to the kind of threat Israel, and Ben-Gurion in particular, are facing today from unguided rockets, which are entirely different from missiles.
U.S. airlines resumed flights to Israel on Thursday night and European airlines restarted their service on Friday. Lufthansa said its flights would resume on Saturday.
Before it's here, it's on the Bloomberg Terminal.
LEARN MORE