Why Did One of the Best U.S. Design Firms Sell Out to a Chinese Conglomerate?
By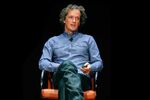 Yves Béhar is selling the majority of his celebrated industrial design firm, Fuseproject, to BlueFocus, a Chinese marketing group.
Béhar is one of the most talented, recognizable, and versatile designers working today. His big-name clients include Nike, PayPal, and Samsung, and he also helped create the One Laptop Per Child project for children in the developing world. Above all, Béhar is the archetypal designer as entrepreneur, a talented creative with the business acumen to design products for startups in exchange for an ownership stake. More than half of his studio's work is with venture partnerships that include SodaStream and Jawbone, the maker of Jambox speakers and Up fitness wristbands.
So what does the acquisition mean for Béhar's business paradigm? The designer says not much will change: "I'm still CEO, we still choose our own projects, and design our own way," he wrote in an e-mail. Nor are there plans to increase head count or open another office. But, Béhar says, the capital from BlueFocus will enable him to export the venture model to Europe and Asia. "It's the difference between bootstrapping every agreement and every deal and having more resources to continue what we do and extend it," he says.
According to the Financial Times, BlueFocus will pay $46.7 million in cash for 75 percent of Fuseproject, which was established in 1999 and now has about 75 employees in San Francisco and New York.
This is BlueFocus's first acquisition in the U.S. It's one of the fastest-growing communications conglomerates in the world, with a reported revenue of $560 million in 2013. Béhar says Blue Focus recognizes that design isn't only about aesthetics or physical objects but can also be the method by which businesses identify new markets. He points to Uber and Airbnb as design-led companies that have transformed the taxi and hospitality industries, respectively, with their sharing-economy models.
"If a company wants to be more transparent, if they want to build products that are connected to contemporary behaviors, design is going to be a very big part of that," Béhar says.