Fox Time Warner Bid Pits Fleet Street Against Ivy League
Edmund Lee, Jeffrey McCracken and Alex Sherman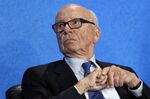 Rupert Murdoch's 21st Century Fox Inc. and Jeff Bewkes's Time Warner Inc. couldn't be more different. One is essentially family-owned, the other purely public. One likes to contribute to Republican candidates, the other to Democrats. And of course there's Fox News versus CNN.
Those vast philosophical and cultural differences aren't just talking points. They played a big role in the decision by Chief Executive Officer Bewkes and Time Warner's board to spurn Murdoch's $75 billion bid last month to buy the company, according to several people familiar with the deal who asked not to be named.
The rejection wasn't simply a matter of money, said the people, who weren't authorized to speak publicly. Differing views on corporate governance and succession planning also played into Time Warner's dismissal, said the people. Should the two companies combine, the gulf could easily produce sharp clashes of style and policy, said Claire Enders, CEO of research firm Enders Analysis Ltd.
"These are not natural bedfellows at all," she said. "Time Warner is traditionally a liberal organization with liberal values. This isn't just about CNN versus Fox News -- the two companies altogether are like chalk and cheese, vinegar and oil."
Dinner Meeting
Murdoch has recently tried to cross that chasm by inviting Bewkes to dinner to discuss the merger, said a person familiar with the matter. Bewkes has so far declined, in part feeling any dinner would become public and look like he was supportive of a deal, the person said. What could smooth the way are the few social connections between the two, including Time Warner Executive Vice President Gary Ginsberg, who once worked for Murdoch.
Both Fox and Time Warner declined to comment.
Time Warner was borne out of New York-Hollywood media circles, a corporate culture used to lavish expense accounts, now tamped down under Bewkes, 62. Fox still evinces the boot-strapped sensibility of its 83-year-old, self-made-billionaire CEO.
Murdoch favors self-taught executives, while Bewkes, a 1974 Yale University graduate, prefers to mine talent from top-flight schools, according to several people familiar with both. Time Warner executives are known to sit on the boards of arts organizations and attend fundraisers for liberal institutions, such as the national advisory board for the Hutchins Center for African and African American Research at Harvard University.
Classic Bewkes
Murdoch and many of his executives circulate in the Republican sphere, most notably Roger Ailes, the head of Fox News, who has long wielded influence in the party. Murdoch has donated to the National Republican Senatorial Committee and backed campaigns of George W. Bush and former Senator Rick Santorum of Pennsylvania, though Democrats including Hillary Clinton have also received his support, according to campaign-finance records.
Time Warner tends to take a more Democratic bent. Bewkes has given money to Democrats including President Barack Obama, former Connecticut Senator Christopher Dodd and Chicago Mayor Rahm Emanuel, according to federal election records.
Both companies have political action committees, and Fox has contributed about 58 percent of its funds to Republican candidates in the last federal election cycle, according to data from Open Secrets, a research group that tracks political spending. Time Warner gave about 83 percent to Democrats, according to the data.
Washington Ties
Richard Plepler, the CEO of Time Warner's HBO, has strong ties to Washington, where he was once an aide to Dodd. The network he runs has produced popular, liberally oriented programming, such as "Real Time with Bill Maher" and "Last Week Tonight with John Oliver."
Plepler, 55, is seen as a classic Bewkes executive -- scholarly and active in elite power circles, according to several people who have worked with the CEO. Plepler is an active member of the Council on Foreign Relations, he's usually the center of attention at awards shows and he reads widely, as evidenced by publications arrayed in his office that include the New York Times, the Financial Times, the New York Review of Books, Bloomberg Businessweek and the New Yorker -- all fodder for programming ideas.
Bill Maher
The distinct cultures could cause Time Warner executives to flee in a merger, Doug Creutz, a media analyst with Cowen & Co., wrote in a research note this week.
"Much of Time Warner's value comes from the employees who work there," he said. "In our view, a talent exodus would significantly reduce the value of Time Warner's assets."
In a column this week in the Hollywood Reporter, HBO's Maher said a Murdoch takeover would exact a "terrible price," and joked, "(I mean besides the terrible price I personally will pay when Rupert takes over HBO and my show becomes 'Paste-Eating Time With Steve Doocy.')"
Notwithstanding Fox's conservative credentials, its head of filmed entertainment, Jim Gianopulos, is a Democratic contributor as are many other of its Los Angeles-based executives, and many of the shows it produces are considered boundary-breaking programs, such as "Modern Family," which features a gay married couple.
The two companies employ radically different corporate-governance structures that may play an even more crucial role in whether the deal happens.
Governance Issues
Murdoch has effective control over Fox through a dual-class share structure. Owners of its more widely traded Class A shares have no say on board elections, executive pay or large-scale acquisitions. Only the company's Class B shares, which don't trade as heavily, have voting rights. Murdoch owns 38 percent of that stock through his family trust, while his close friend and ally Prince Alwaleed bin Talal is the second-largest holder at 6.6 percent.
Time Warner, on the other hand, has one share class, and all investors vote on corporate matters. Bewkes likes running a public company where all its investors have a say, according to those who know him. He also appreciates the daily public record of the company's achievements through its share price, the people said. That's one reason he doesn't welcome Murdoch's offer, which doesn't include any voting stock in Fox.
Facing the takeover threat, Time Warner recently tightened its control, eliminating a provision in its bylaws that let shareholders call special meetings. Under the old rules, investors representing at least 15 percent of Time Warner's shares could have called for a meeting as soon as February. As much as 14 percent of the stock has changed hands since Murdoch's offer was announced last week.
A takeover by Fox means it's likely that someone named Murdoch will eventually be in charge. Murdoch has always said he wants his children to take over the company one day, and he recently elevated two of his sons into higher positions. James Murdoch, 41, was named co-chief operating officer and Lachlan Murdoch, 42, has returned to the company as non-executive co-chairman of Fox.
Murdoch Family
"Rupert Murdoch is 83 years old -- if you're a long-term shareholder like we are, you're probably signing up for control by the rest of the Murdoch family at some point," Chris Marangi, a money manager at Gamco Investors Inc., said in an interview on Bloomberg Television this week. Gamco owns shares in both companies, and Marangi added that the deal makes strategic sense, especially following cost cuts.
Banker Friends
The two companies share a few connections that could be deployed to help lubricate any deal.
Bewkes and Fox COO Chase Carey know each other well, having crossed paths in the media business for decades, according to people familiar with them.
Murdoch enlisted Carey to broach the bid with Bewkes in early June, signaling a strategic sensitivity on the part of Murdoch.
The most keyed-in person arguably is Ginsberg, who's worked for both companies. He was head of communications and marketing at News Corp., Fox's predecessor company, for 10 years until he left in 2010 to join Time Warner, where he's since acted as an important strategic adviser to Bewkes.
Ginsberg left on good terms with Murdoch, according to several people familiar with both executives. Murdoch, who greatly respects the 51-year-old's skills as an executive, has on occasion taken to calling Ginsberg on industry matters even after he left the company.
Ginsberg is also close friends with Blair Effron of Centerview Partners LLC, one of the bankers advising Murdoch on his takeover strategy of Time Warner. In 2007, when Ginsberg was with News Corp., he suggested to Murdoch that he hire Effron as the banking adviser for its acquisition of Wall Street Journal publisher Dow Jones & Co.
Keith Cocozza, a spokesman for Time Warner, declined to comment on Ginsberg's connection to Murdoch.
Outspoken Views
Murdoch and Bewkes themselves share few traits. Even after more than three decades in media, Bewkes has few, if any, close friends in the business and remains closest to some of his former classmates at Yale.
Murdoch, famous for his swashbuckling manner and outspoken views on topics from climate change to immigration, has developed many company friendships. He has become a little less visible since a hacking scandal erupted at his U.K. newspapers in July 2011. He shut down one of his papers and came before a government committee, where he apologized.
The Australian-born billionaire has nonetheless been fairly active on Twitter in the last few years and also has a revealing Tumblr account. The blog is often lighthearted, showing the mogul in both work and play modes. In one picture he appears to casually be playing a board game with friends. The caption reads: "He is ruthless at Monopoly. Seriously."
Before it's here, it's on the Bloomberg Terminal.
LEARN MORE