Dunkin' Donuts Gets Pinched in Breakfast Battle
by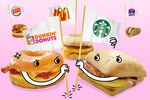 As Dunkin' Donuts tries to reestablish itself out West, opening a slew of new stores in California and Texas, the coffee-and-doughnut chain finds itself facing an assault on its breakfast business.
Yes, Dunkin' managed to post unspecified increased breakfast sales for the past quarter. But since the company reported anemic same-store sales in the U.S., which increased just 1.8 percent, those breakfast gains couldn't have been significant. The hours before 11 a.m. contribute 60 percent of its sales.
Dunkin' Brands Chief Executive Officer Nigel Travis blamed deep discounting from fast-food competitors, as well as the push into breakfast foods by gas stations and convenience stores, which forced the chain to offer deals to boost traffic. "There's no doubt that breakfast is the most competitive out-of-home eating day-part, and everyone wants to be in the beverage business," Travis said during Thursday's earnings call.
Dunkin' reduced its growth target for 2014 comparable sales to 2 percent to 3 percent, lower than the 3.4 percent rate in 2013.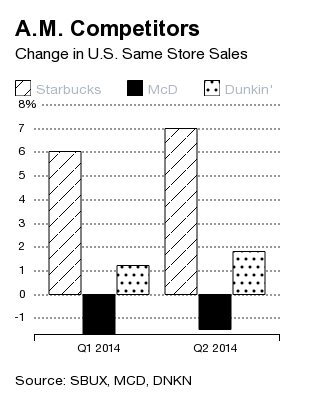 Coffee competitor Starbucks, meanwhile, increased comparable sales last quarter by 7 percent. And while Starbucks did not break out results just for the morning, the company did cite a 40 percent increase in sales of breakfast sandwiches compared with a year earlier.
McDonald's, which ran a free coffee promotion in the spring, told Bloomberg Businessweek that its breakfast sales are also up so far this year, despite the drop in comparable sales overall. And Taco Bell's new breakfast menu, unveiled in March, now accounts for 7 percent of the Tex-Mex chain's sales.
The morning is crowded and competitive. Dunkin' and its rivals will need to aggressively defend their breakfast turf.
Before it's here, it's on the Bloomberg Terminal.
LEARN MORE