Prabowo to Seek Indonesia Vote Repeat in Legal Contest
Neil Chatterjee, Rieka Rahadiana and Chris Blake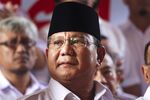 Prabowo Subianto, the former general who has refused to concede defeat in Indonesia's presidential contest, is seeking voting to be redone in as many as six provinces with a legal challenge today.
Prabowo's campaign has 10 tons (10,000 kilograms) of documentary evidence that alleges "massive" and systemic fraud in the July 9 vote, his brother and economic adviser Hashim Djojohadikusumo said in an interview today. If the constitutional court suit fails Prabowo, 62, will concede and then "harass" the government with an active parliamentary opposition, although he would not plan to stand again for election in 2019, Hashim said.
Ex-general Prabowo faces an evening deadline to challenge official results on July 22 that showed he lost to Jakarta Governor Joko Widodo by more than eight million votes. Prabowo is seeking a fair process, Hashim said, even as his stance has created uncertainty for voters and investors in Asia's fifth biggest economy.
"The main basis of the challenge is that the election commission has not acted even according to their own rules," Hashim, a businessman and son of Suharto-era finance minister Sumitro Djojohadikusumo, said at his office in Jakarta. "I think we can prove it. We have an enormous amount of evidence."
The rupiah jumped and Indonesian stocks advanced on July 23 after Widodo's win was confirmed by the election commission, an indication of investors' preference for his economic platform, seen as more market-friendly. The rupiah fell 0.1 percent today against the dollar after rising as much as 0.3 percent.
Ballot Boxes
Chinese President Xi Jinping joined other world leaders in congratulating Widodo, known as Jokowi, on his win, the state-run Xinhua News Agency reported today. In a message Wednesday, Xi said China has made Indonesia a priority in regional diplomacy and sees it as a reliable partner. U.S. President Barack Obama called Jokowi after the results, the White House said July 23.
Prabowo's legal team said the Suharto-era commando will file a suit with the Constitutional Court tonight questioning procedures at about 59,000 polling stations. Prabowo has called the poll "undemocratic."
Prabowo's team asked police to investigate reports from his team's poll witnesses that some ballot boxes were opened at the wrong time, said Mohamad Taufik, the head of the Prabowo campaign team in Jakarta. "We think this is criminal," he said. "Our witnesses came and were surprised."
Constitutional Court
The last-minute effort to swing the result will raise pressure on a court previously tainted by corruption to issue a decision rooted in the law. Failure to do so would be a setback for a young democracy still emerging from decades of rule by dictator Suharto, and may risk street protests.
Jokowi has not commented on Prabowo's allegations, instead calling for national unity after the most divisive election since Indonesia returned to democracy when Suharto was ousted in 1998. The campaign between Jokowi, 53, and Prabowo, a former special forces chief once married to Suharto's daughter, split the country between those looking for a more liberal democracy and those nostalgic for a leader who projects strength.
The court would have about a week to decide whether to accept Prabowo's case, according to court legislation. If it chooses to do so, the judges would hear arguments in August and rule by Aug. 24, in time for the next president to take over on Oct. 20, when President Susilo Bambang Yudhoyono's second term ends. The court's decision, which does not require a consensus, is final.
Trust, Respect
After the July 9 vote both candidates claimed victory based on unofficial quick counts -- though all the counts by survey companies that agreed to be audited showed Jokowi winning -- and called on supporters to guard against manipulation of the formal tally. The onus is now on Prabowo to prove his allegations.
"The court is unlikely to overturn the results considering public and international scrutiny is high," said Lina Gautama, a Singapore-based research associate at consultancy Control Risks. "Hamdan Zoelva, who is currently the chief justice, has promised that he will make this transparent and the proceedings will be made public through direct videos."
Yudhoyono called for calm in a YouTube message posted today on his Twitter account, and again congratulated Jokowi on his election win.
"We must trust KPU and respect the results of vote counting done by the KPU," he said, referring to the election commission. "We have to respect Pak Jokowi together with Pak Jusuf Kalla, whom the KPU has declared winners in this presidential election. If Pak Jokowi and his supporters are expressing gratitude, rejoicing, and celebrating, it is reasonable and we have to respect that."
Before it's here, it's on the Bloomberg Terminal.
LEARN MORE