The Wrath of Conn's: The Appliance Store That Ignored the Times
by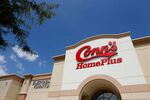 Update, 4:55 p.m.: Adds statement from Conn's and comment from Segal. 
At long last, Conn's has spoken.
For about a month, the electronics and appliance retailer headquartered in Houston has been part of a one-way feud with the New York Times. The paper's David Segal, aka the Haggler, had based one of his consumer complaint columns on how Conn's had treated a customer. Typically, companies rush to speak with Segal in an effort to clear their good names. Not this time. Conn's went full ostrich mode, put its head in the sand, and refused to come up. The company's silence prompted Segal to write a second column calling on readers to contact the company. Conn's ended at the wrong end of a noisy social media campaign, as the hashtag #talktothehaggler took on a life of its own.
On Friday, July 25, Conn's broke its silence. In an interview with Bloomberg Businessweek, Chief Operating Officer Michael Poppe mostly shrugged off the idea that the company had acted unusually by ignoring the New York Times and the Twittering masses. Conn's, he said, had in fact sent Segal a statement at the outset of this mess. After that it stayed quiet because it did not want to discuss the details of a customer's situation in public. "Maintaining the confidentiality of the customer information is more important to us than responding to what is going on in the media," Poppe said. "We can't talk about the details of an individual customer's account and are very limited on what we can say."
Before we get to how satisfactory this answer may or may not be, let's review the basics of the situation.
The Haggler column typically focuses on a reader that may have been wronged by a company and can't seem to get any resolution to the problem. Using the power of the New York Times, Segal gets the company's representatives on the phone, investigates the situation, and reports back. It's all about the little guy getting a momentary chance to harness the power of the third-biggest newspaper in the country.
In this case, Segal described a Texas woman named Grace Bunmi Salako Smith who bought a refrigerator and a computer from Conn's in Dallas for $2,587. "She says that she could have bought this merchandise outright, but that she wanted to enhance her credit score so she would have better standing to make investments in real estate," Segal wrote in his initial column on July 3. "So she financed it with a special offer from Conn's, the terms of which allow her to pay no interest as long as she makes regular payments each month."
The situation turned hairy from there. Smith seems to have been making her payments on time until her refrigerator broke down. Then, angry because Conn's would not fix the fridge when it had a glitch, Smith skipped a payment. Once the fridge was fixed, she resumed the payments, and Conn's forgave the late payment and did so in writing. "In April, when she went to Conn's to make her final payment, and close out her balance, Ms. Smith was informed that she owed $751 in interest," Segal wrote. "According to Conn's, she had broken the terms of that zero-interest program."
Smith provided Segal with paperwork to support her version of events. She also sent a document to Conn's authorizing Segal to inquire about the situation on her behalf. As any good reporter would do in this situation, Segal began reaching out to Conn's to get its side of the story. The company, however, flat out refused to talk to him. Segal called numerous executives, including Poppe, at the office and then started phoning them at their homes. He reached out to board members. Most of the calls went to assistants or voice-mail accounts and were never returned. Some people promised to call Segal back and never did. Segal encouraged his readers to call, e-mail, and tweet at Conn's and get the company to respond.
The Haggler's fans responded in force. Thousand of tweets went out with the hashtag #talktothehaggler. Presumably calls and e-mails were placed in similar volumes. None of this worked. On July 19, Segal's second column summed up his continued efforts to reach Conn's and some of his favorite tweets from readers. He started to find other people who claimed to have had run-ins with Conn's. "The Haggler also spoke this week to Dean Malone, a Texas plaintiff's attorney who has sued Conn's several times," Segal wrote. "In one of those cases, the cause of action centered on Conn's debt collection tactics, which, he said, involved calling a customer six times a day."
Through it all, Segal did not take sides in this issue. He provided a brief account of Smith's situation and wondered aloud if she was right to be upset. Conn's could have contained this situation to a he-said, she-said article rather than a social networking movement and a pair of stories in a national newspaper that leave the company looking unresponsive at best, hostile at worst.
Poppe wouldn't discuss the merits of Smith's complaint with me, but he did say that Conn's called and wrote to Smith to address her situation, including sending a letter via certified mail. "The customer has yet to respond to any of our calls," he said. Conn's sent a statement today to Segal, saying the time had finely come to address the issue. Here's the statement in full:
At Conn's, our customers and their satisfaction come first—it has been the foundation of our success for more than a century.

In this particular case, we responded promptly to the customer via written communication and the phone. Specifically, we sent a detailed factual explanation via certified mail on May 9, 2014. The customer is free to share this letter if she desires, and we would be happy to provide another copy to the customer if needed. The customer has yet to respond to any of our calls.  We take very seriously our commitment to confidentiality and the protection of customer information.  As such, it is our policy to not discuss customer issues with the media.  However, with regards to this case, we are confident that we treated Ms. Smith fairly, as we would do with any of our customers.

All of our policies, including those at issue here, are clearly communicated at various touch points in our stores and online. We set these standardized policies to outline our programs and maintain a level of fairness for all of our customers. We always strive for open communication with our customers and are dedicated to their satisfaction.  It is the reason that 70% of our sales in established markets are to repeat customers.
In an interview, Segal said he found this statement unsatisfying. Smith had given him and Conn's written permission to move past the privacy concerns and disclose the particulars about her case. Segal is reaching out to Smith for more information about her interactions with the company. "I would be surprised if it turns out that she has not responded to them," he said. "Her whole thing is that she wants to talk more, not stonewall them."
He added that the statement Conn's had initially sent stated that the company was declining to talk about the matter. Segal could not recall another instance where a company had simply refused to engage like this. "The whole thing to me is about being fair," he said. "It just really bothers me that this company thinks, 'We don't need to discuss this.'"
Poppe told me they have no further plans to engage with the New York Times. "As we have had additional requests for information from other sources, we concluded we would go ahead and release the statement," he told me.
Conn's obviously could have handled this situation better. Still, a part of me admires Conn's through all of this. I used to work at the New York Times, and no one in his right mind declined to call me back about a sensitive issue. When the Haggler calls, the stakes are even higher. We live in an age when companies scramble to address every gripe on Twitter, with mixed results. Here was a company that said, "We've been in business for more than 100 years. Shove it, social media."
Before it's here, it's on the Bloomberg Terminal.
LEARN MORE