China's Unsafe Food Takes Chicken off the McDonald's Menu in Hong Kong
Christina Larson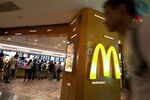 Hong Kong has cleaner air than most cities in mainland China, as I note with envy each time I check the air-pollution app on my smartphone from smoggy Beijing. But Hong Kong is not immune from all of China's health and environmental hazards: Most of the island's food is imported from the mainland, and as a recent scandal has revealed, that food chain is anything but safe.
Last week, a Chinese TV news report documenting how Shanghai Husi Food sold beef and chicken paddies using expired meat, or meat that had fallen on the factory floor, to major restaurant chains created a media maelstrom. (Shanghai Husi Food is owned by Illinois-based OSI Group.) McDonald's and Yum! Brands, which owns and operates KFC and Pizza Hut, responded by apologizing to Chinese diners and yanking food with ingredients sourced from Husi Food's main Shanghai plant off the menus of restaurants in mainland China.
On Thursday, Hong Kong suspended further imports from the maligned Shanghai Husi Food. On Thursday evening, McDonald's announced that it had taken chicken nuggets and other items containing chicken off the menus of at least some of its restaurants in Hong Kong. The fast-food chain's Hong Kong restaurants had sourced chicken from one of Shanghai Husi Food's plants, although not the Shanghai facility exposed in the TV report.
"You're going to see more pressure for restaurant players to take direct control of their supply chains" in greater China, James Button, Shanghai-based director of SmithStreet, which advises companies on their China strategies, told Bloomberg News. "It's certainly going to make things difficult for brands in the short term, and I would not be surprised at all if more problems are uncovered."
Last year the provincial government of Guangdong found that 44 percent of rice tested in local restaurants contained elevated levels of cadmium, the result of nearby cropland contaminated with heavy metals. In April, China's government released partial results from a national survey showing that 19 percent of China's farmland is polluted.
Before it's here, it's on the Bloomberg Terminal.
LEARN MORE