Alan 'Ace' Greenberg, Dead at 86, Never Lost Faith in Big Banks
Laurence Arnold and Yalman Onaran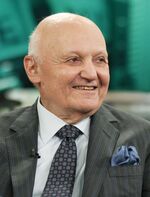 Alan C. "Ace" Greenberg, who transformed Bear Stearns Cos. from a small bond shop into the fifth-largest U.S. securities firm, never lost his faith in the bigness of banks.
Greenberg, who died yesterday at 86, said in a 2010 book that the bank run that swallowed Bear Stearns in 2008 stemmed from "a groundless rumor" that it had a liquidity problem. He blamed his successor, James "Jimmy" Cayne, for becoming "more aloof and full of himself" as the firm's share price rose in 2007, which "couldn't help but impair certain business judgments."
In 2012, when Citigroup Inc. founder Sanford "Sandy" Weill recommended that deposit-taking banks and investment banks be separated again, to avoid the hazards posed by "too-big-to-fail" institutions, Greenberg sarcastically disagreed.
"That was not Sandy," he joked in an interview on Bloomberg Television. "I think it was a guy making a movie about Wall Street or something."
A "huge country," he said, needs "big banks."
Greenberg took over New York-based Bear Stearns in 1978, when it was a private partnership with about 1,000 employees and $46 million in capital. He expanded shareholders' equity to $1.8 billion and headcount reached 6,300 by 1993, when he handed power to Cayne.
Expands Firm
He moved the firm into investment banking, where it was traditionally weak, and transaction clearing, a business he discovered earlier than his bigger rivals. Before it collapsed, those businesses generated a quarter of the company's revenue.
He scrimped to save every penny, directing employees to turn off the lights when leaving and to seal envelopes only partially so they could be re-used. Those edicts and others were immortalized in a collection of his internal missives to staff, published in 1996 as "Memos from the Chairman."
"To this day, I can't throw a paper clip out," Thomas Marano, who rose during 25 years at the firm to become global head of mortgages and asset-backed securities, said yesterday in a telephone interview.
Marano said another lesson came from Greenberg's practice of calling the trading desk to ensure calls were answered within two rings. The day before one holiday weekend, Marano said, the equity syndicate desk, on which he worked, drew Greenberg's ire and interest for not answering swiftly enough.
Quick Response
"I saw him leave, and I thought to myself, 'I better not leave early because he might call again,'" Marano said. Around 4:30 p.m., Greenberg did call, and Marano was there to answer. From that day, he said, "I am probably the fastest person to answer a telephone call in the world."
The forced sale of 85-year-old Bear Stearns to JPMorgan Chase & Co. in March 2008 followed a bank run by clients that left Bear Stearns on the brink of bankruptcy. After the sale, Greenberg became vice chairman emeritus of JPMorgan.
Alan Courtney Greenberg was born on Sept. 3, 1927, in Wichita, Kansas, the grandson of Russian Jewish immigrants. At 6, he moved with his family to Oklahoma City, where his father, Theodore, opened a women's clothing store during the Great Depression.
Greenberg attended the University of Oklahoma on a football scholarship for a year before a back injury ended his playing career. He transferred to the University of Missouri a year later, where he received a bachelor's degree in business as well as the nickname "Ace," suggested by a friend who thought he'd get more dates with a less obviously Jewish name.
Starting Career
Inspired by a book he read about financier Bernard Baruch, Greenberg moved to New York after graduation to start a career on Wall Street. Of six job applications, the only offer came from Bear Stearns.
Greenberg started at the firm as a clerk in 1949, putting pins on a map to locate oil wells. He got noticed by John Slade, head of the arbitrage trading desk, who took Greenberg under his wing. When Slade became head of international business, Greenberg took over arbitrage.
Six years later, at 31, he was made partner and began managing the firm's principal investments. He also was diagnosed with colon cancer and given a 25 percent chance to live. After surgery he submitted to regular checkups for the next 12 years.
Greenberg clashed with the firm's managing partner, Salim "Cy" Lewis, demanding that falling stocks be sold. Usually, Greenberg got his way. He started running the company when Lewis fell ill and became CEO when Lewis died in 1978.
'Ice Water'
Lewis's son, Sandy, told "House of Cards" (2009) author William Cohan that his father "hated" Greenberg, a man "so cold my father used to say he pissed ice water."
The firm grew in profits and personnel under Greenberg, who said he sought to hire people with "PSD" degrees, meaning "poor, smart and a deep desire to become rich." In 1985, he took the firm public and became chairman of the board, a post he held until 2001.
A reputation for discretion made Greenberg valuable to corporate raiders including Donald Trump, Henry Kravis and Irwin Jacobs when they tried to buy shares of target companies quietly. Greenberg helped Trump collect 9.6 percent of Bally Entertainment Corp. during his 1986 unsuccessful takeover attempt of the rival casino operator.
"Ace and I were friends for 40 years and did business for 40 years," T. Boone Pickens, the Texas oilman who made billions from energy trading, said yesterday in an interview with Bloomberg Television. Greenberg was Pickens' banker in the 1980s, when Pickens stormed Wall Street with his attempted corporate takeovers.
'Profoundly Positive'
"Ace was just a great man," Pickens said. "He's, I think, the most profoundly positive figure on Wall Street for decades. I mean the guy has been around. Everybody knew him. His word was his bond."
A member of the Society of American Magicians, Greenberg enjoyed showing magic tricks to reporters during interviews and at public events such as fundraising dinners for the Jerusalem Foundation or the Parkinson's Disease Foundation. He required all Bear Stearns executives to contribute 4 percent of their salaries to charity.
Greenberg is survived by his son, Ted Greenberg; daughter, Lynne Koeppel; his second wife, the former Kathryn Olson; a brother, Maynard; a sister, DiAnne Hirsch; and five grandchildren.
Before it's here, it's on the Bloomberg Terminal.
LEARN MORE