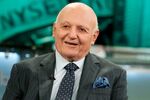 Alan C. "Ace" Greenberg, the longtime chief executive of investment bank Bear Stearns, died due to complications from cancer. He was 86.
An avid bridge player and part-time magician, Greenberg led Bear Stearns from its days as a small, private partnership in 1978 to its height as a global investment bank in 1993, when James "Jimmy" Cayne took over as CEO. Greenberg remained at the firm as a trader until March 2008, when it nearly collapsed in the heat of the subprime mortgage meltdown and was forced to sell itself to JPMorgan Chase for $10 a share, becoming a symbol of the greed and hubris that caused the financial crisis. Greenberg was embittered about the fate of his beloved company, where he'd started working as a clerk in 1949.
"Greenberg blamed Cayne, his successor as CEO, for the demise of Bear Stearns," reports Bloomberg News in its obituary. "In his book, he described Cayne as a megalomaniac more interested in playing bridge than in representing the firm. He said Cayne became 'more aloof and full of himself' as the firm's share price rose in 2007, which 'couldn't help but impair certain business judgments.' He said the Bear Stearns fixed-income department used too much leverage to build its mortgage-backed securities portfolio."
Greenberg grew up in Oklahoma City, where his father operated a clothing store. He graduated from the University of Missouri in 1949 and came to Wall Street determined to make his fortune. "Lacking an Ivy League degree, he was rejected by five white-shoe firms," writes the New York Times. "But Bear Stearns, open to aggressive novices regardless of background, made him a $32.50-a-week clerk. He lobbied for promotions and soon demonstrated remarkable trading skills. By 1958 he was a full partner, one of the storied clerks who became millionaires at Bear Stearns."
In many ways, Greenberg's passing marks the end of an era on Wall Street, one that saw the rise of a generation of determined, scrappy kids from middle-class backgrounds drawn to the gritty trading floors of Manhattan. There, many of them made enormous fortunes—only to see many of their best employees leave for hedge funds and several of their firms undone by excessive avarice and risk-taking.
"There are no investment banks left," he told Bloomberg Television's Stephanie Ruhle somewhat ruefully in 2011. But—"this is still a great business."
Before it's here, it's on the Bloomberg Terminal.
LEARN MORE