Will Double Disasters Put Malaysia Airlines Out of Business?
By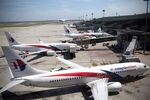 As rebels in Ukraine finally release bodies and remains of victims of the MH17 crash, Malaysia Airlines is trying to reassure would-be flyers that the airline won't be anywhere close to the area in the future. On its website, the airline has a map of Ukraine (including Crimea), with the borders all red-lined. "Malaysia Airlines now avoids Ukranian airspace entirely, flying farther south over Turkey." Meanwhile, any customers who go to the carrier's "Deals of the Day" link get a one-sentence message. "Sorry, there are no deals at the moment."
Nearly a week after the downing of MH17 in Ukraine, MAS executives are focusing on finding a way to save the company. The carrier this week is going to present a plan to its parent, state-run Khazanah Nasional, Bloomberg News reported yesterday. Bankruptcy is one option. Taking the company private is another.
Most likely MAS will continue flying in some form. After all, the airline serves seven cities in Malaysia and plays an especially important role in a country divided in two, with the South China Sea separating peninsular Malaysia from the states of Sarawak and Sabah on the island of Borneo.
Just staying put, however, is not an option. "In the current form, I firmly believe Malaysia Airlines won't be able to survive," Mohshin Aziz, an analyst at Malayan Banking, told Bloomberg Television on Monday. "They will largely exhaust all their capital and won't have any money left to continue flying by the middle of next year."
Aziz isn't the only one doubting the ability of MAS to go on. In a report published Friday, Hong Leong Investment Bank analyst Daniel Wong questioned whether the airline will have the funds to endure two disasters in just four months. In the first quarter of 2014, MAS had a cash-flow loss of 350 million ringgit ($110 million) and 2.3 billion ringgit ($726 million) in cash on hand.
Those dismal numbers included two months before the first disaster, the disappearance of MH370, began hurting business. "With the expected worsening load factor and lower yields for the remaining 2014, we believe MAS may need to raise fresh capital to keep MAS afloat by 2015," wrote Wong. Hong Leong expects the airline to lose 1.39 billion ringgit on sales of 16 billion ringgit this year, following a loss of 1.17 billion in 2013. And there's no profit in sight for Malaysian Air, with Hong Long estimating more losses next year and the year after.
Before it's here, it's on the Bloomberg Terminal.
LEARN MORE