Just How Big Is the Service Sector?
Figuring out the size and growth of services is trickier than it looks
By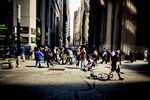 The U.S. government thoroughly measures the output of American farms. On July 18, for example, the Agriculture Department announced that milk production per cow averaged 1,888 pounds in June. The government collects less information about services, which range from $10 manicures to $1,000-an-hour legal advice. That's a problem, because services account for 77 percent of private-sector output in the U.S. There are only six principal economic indicators for services (including ones for construction and retail trade), vs. 17 for agriculture, construction, manufacturing, mining, and energy. "The economic data collected by U.S. statistical agencies remain highly skewed toward more traditional industries," writes economist Kris Dawsey, author of a new Goldman Sachs report.