pursuits
How to Run a Business School Like the 'Wolf of Wall Street'
By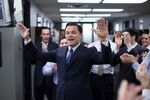 The script had all the trappings of a blockbuster screenplay, but it wasn't a product of Hollywood.
"When you ask the question at the final close, remain silent," read the directions, which were given to recruiters at a suite of for-profit colleges. "The next one who speaks loses."
It's a near-exact echo of a scene from Martin Scorsese's The Wolf of Wall Street, in which Leonardo DiCaprio's character, a ruthless swindler, tells stockbrokers, "Whoever speaks first loses," advising them to say nothing after pushing a trade on a client.
In the real-life version, however, the targets were students, not investors. The training manual, used by the for-profit Minnesota School of Business and its affiliate, Globe University, exposes hardball recruitment policies favored by such programs.
On Tuesday, Minnesota Attorney General Lori Swanson sued the schools, saying they rely on "tactics reminiscent of sales boiler rooms" in a no-holds-barred approach to boosting enrollment, including deceiving students about the education they sought. Dozens of students named in the suit say that instead of a career, they were left with a pile of debt and a degree unlikely to lessen that load.

The attorney general's yearlong investigation found that despite enthusiastic promises of job placement—"lifetime CAREER assistance (we're not kidding)," read one upbeat pitch to students—graduates often wound up in low-wage jobs unrelated to their fields of study. In a particularly egregious example, the school led some students to believe they could become police officers after completing their degree, the suit claims, despite not being accredited to train police in the state.
In a press release, a spokeswoman for Globe University denied that the school used deceptive recruitment practices toward criminal justice students, and said that over the course of the investigation the school "made several attempts to meet to address any concerns," but didn't cite specific measures it had taken beyond that.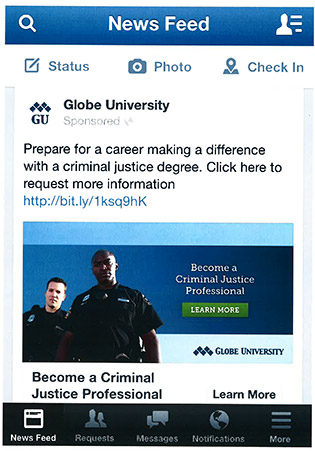 The suit comes as a host of for-profit colleges face fraud charges in court and scrutiny from the Obama administration, which recently proposed stringent new rules that would cut off federal aid to such schools that leave their students with a mountain of debt and low incomes. This month the U.S. Department of Education pushed for-profit behemoth Corinthian Colleges to gradually shut down operations.
In February, lawsuits against two different for-profit colleges detailed a pattern of abuses that ranged from negligence to outright deceit. Students at Wright Career College, for example, said in a suit that instructors were repeatedly fired in the middle of a course, leaving their classes to be taught by no one, and that college officials misled them about the cost of the programs.
At the Minnesota School of Business, it seems education was a commodity bought and sold like any other good. Recruiters learned to entice prospective students by talking about their dreams for the future, including "a car, a house, or some tangible item," according to court documents. When students hesitated, recruiters were encouraged to dig in. "The sale begins when the prospect says 'NO,'" the school's manual noted.
The average student graduating from one of these programs had about $50,000 in student debt, the suit says, which is double the debt load of a typical student at the University of Minnesota.
Before it's here, it's on the Bloomberg Terminal.
LEARN MORE