Hamas Says No Sign of Breakthrough in Gaza Truce Talks
Saud Abu Ramadan, Sangwon Yoon and Robert Tuttle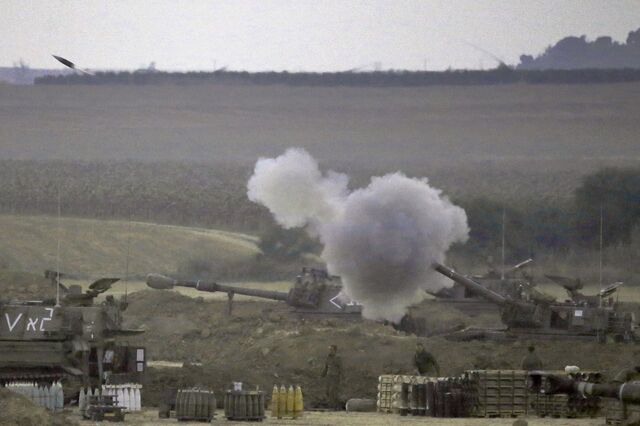 Hamas vowed to keep fighting until the embargo on Gaza is lifted and Israel also said it has no plans to halt its military campaign, damping expectations that U.S.-brokered talks can bring a rapid cease-fire.
Hamas leader Khaled Mashaal asked the people of Gaza for "more patience" late yesterday, and said he sees no sign of a breakthrough in talks on a cease-fire, though he said Hamas welcomes the diplomatic efforts. Earlier, Justice Minister Tzipi Livni said Israel won't stop its Gaza Strip offensive as long as the Palestinian territory's Hamas rulers continue to pose a threat, and Defense Minister Moshe Ya'alon told soldiers to prepare for a broader ground war.
More than 700 Palestinians, including hundreds of civilians, have been killed in the fighting, which intensified last week when Israel added to its air bombardment by sending troops into Gaza. U.S. Secretary of State John Kerry flew to Israel yesterday in pursuit of truce negotiations in which Egypt, the traditional mediator of Gaza conflicts, has also been involved.
"We are at a point where we must continue the ground operation," Interior Minister Gideon Sa'ar told Ynet.
The United Nations Human Rights Council voted to investigate allegations of Israeli war crimes. Israel, the U.S. and European Union consider Hamas a terrorist group. Israel has accused it of using civilians as human shields.
Destroying Tunnels
Israel says its operation aims to destroy tunnels that have been used to make raids from Gaza, and to prevent a barrage of rockets fired from the territory. After one landed near Israel's international airport on July 22, the U.S. Federal Aviation Administration banned flights to Tel Aviv by American carriers for the first time since 1991. The FAA lifted the suspension today.
Efforts to end the third major round of violence between Israel and Gaza since 2009 have been complicated by hostility between Hamas and Egypt, whose new government has cracked down domestically on Islamists. Hamas spurned a truce proposal last week after Israel accepted it, saying the plan didn't guarantee lifting the blockade on the Gaza Strip.
Israel and Egypt have tightly controlled Gaza's borders since 2006, citing security concerns. The embargo has battered Gaza's economy and confined the territory's 1.8 million people to a 140-square-mile (363-square-kilometer) patch of land.
Palestinian Split
Hamas is a spinoff of Egypt's Muslim Brotherhood, whose leaders were ousted from power by the military last year. It was founded in 1987 amid the first Palestinian uprising and later gained notoriety for a campaign of suicide bombings that killed hundreds of Israelis.
The group won the Palestinian legislative elections in 2006. It took control of Gaza the following year after a bloody confrontation with forces loyal to the Palestinian Authority in the West Bank.
Palestinian health officials put the latest death toll at 707 late yesterday, with more than 4,500 injured. Israel's army says at least 32 soldiers have been killed and one is missing in action, while about 2,250 rockets have been fired at Israel since July 8.
Livni said Israel may be headed toward an ongoing offensive "whose objective is not to contain the threat, but to disarm terror organizations, including Hamas." Ya'alon, while visiting troops on the border yesterday, said the Israeli army is "preparing for the next stages of battle once the tunnels have been taken care of."
Not 'Invincible'
Mashaal, who spoke at a press conference in Qatar, said the group won't disarm or settle for any accord short of the lifting of the embargo on Gaza. He said Hamas's fighters have "destroyed the idea that the Israeli army is invincible."
Kerry, who shuttled yesterday from Cairo to Israel and the West Bank for talks with Palestinian President Mahmoud Abbas and Israeli Prime Minister Benjamin Netanyahu, said there have been "steps forward but there is still work to be done." Aides to Abbas were more optimistic, with chief Palestinian peace negotiator Saeb Erekat predicting a cease-fire deal today.
Israel's shekel rose 0.06 percent to 3.4110 to the dollar at 9:46 a.m. in Tel Aviv, heading for its strongest exchange to the U.S. currency since July 2011.
(An earlier version of this story was corrected to change the year in which Hamas took control of the Gaza Strip.)
Before it's here, it's on the Bloomberg Terminal.
LEARN MORE