Hogs Falling to Four-Month Low Signals Relief for Pork Eaters
Megan Durisin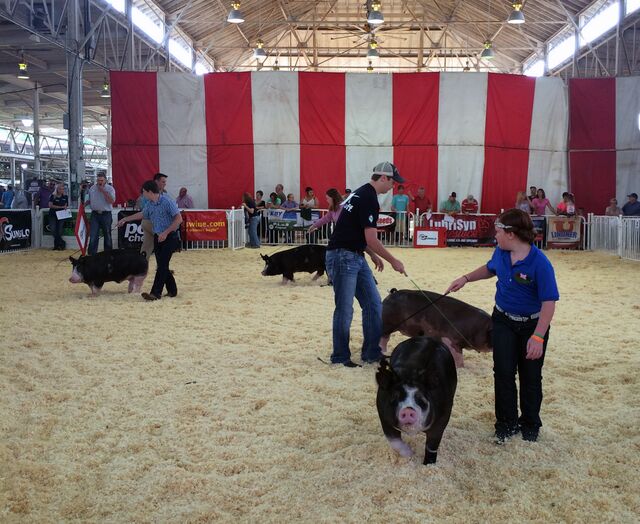 Hogs dropped to a four-month low, signaling relief for U.S. consumers who had been paying record prices for pork.
Futures in Chicago fell by as much as the exchange's daily 3-cent limit for a second straight session. Prices had rallied as much as 56 percent this year, sending retail pork chops to a record $4.106 a pound in May. The cost of the meat eased to $4.024 last month, government data showed this week.
The 2014 rally was driven by the spread of the porcine epidemic diarrhea virus in the U.S. that may have killed as many as 8 million hogs. New cases of the disease have slowed as temperatures warmed in the U.S., according to American Association of Swine Veterinarians data. While slaughter rates have signaled shrinking animal supplies, the drop has been smaller than investors expected, according to Prime Agricultural Consultants. Prices have dropped 19 percent this month.
"Speculators are bailing out of their long positions," Paul Beere, a market adviser at Prime Agricultural Consultants in Brookfield, Wisconsin, said in a telephone interview. "We're not having this huge marketing hole that's been expected to show up."
On the Chicago Mercantile Exchange, hog futures for October settlement fell 2.3 percent to close at $1.079 a pound, after touching $1.0745, the lowest since March 3.
Domino's Costs
Price declines are improving the cost outlook for restaurants and chains including Domino's Pizza Inc., which July 22 cited higher cheese and pork costs as eroding margins.
Wholesale-pork prices yesterday fell to the lowest since July 1, and an index that tracks a two-day weighted average of cash hogs has fallen for four straight sessions, the longest slump since June 4.
In the week ended July 18, hog slaughter dropped 8.9 percent from a year earlier, according to the U.S. Department of Agriculture. That's less than the declines of as much as 15 percent that traders had been expecting, Beere said.
Cattle futures for October delivery gained less than 0.1 percent to close at $1.5805 a pound on the CME, after reaching a record $1.598. Feeder-cattle futures for August settlement rose less than 0.1 percent to $2.17325.
Before it's here, it's on the Bloomberg Terminal.
LEARN MORE