European Sanctions Could Hit Russia's Achilles Heel: Capital Flight
By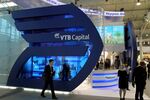 After the loss of more than 200 European Union citizens in the downing of Malaysia Airlines flight MH17, Europe may be ready to punish Russia in a way that will really hurt: restricting its access to financial markets and accelerating the flight of investment capital.
The EU presented a plan to its 28 member countries on Thursday calling for a ban on European purchases of bonds or shares sold by Russia's state-owned banks, which play a dominant role in the country's banking sector. Such a move would drive up the banks' borrowing costs and "constrain their ability to finance the Russian economy," according to a draft of the EU proposal. "It would also foster a climate of market uncertainty that is likely to affect the business environment in Russia and accelerate capital outflows."
In another ominous sign for Moscow, Norway's sovereign wealth fund—the world's richest—warned that it may scale back the nearly $8 billion it has invested in Russia. The fund's holdings include a 4.6 percent stake in the state-controlled VTB investment bank and 0.5 percent of gas export monopoly Gazprom. Although Norway isn't an EU member, the fund "will need to make the necessary adjustments" if the EU imposes sanctions that Norway supports, a spokesman for the Norwegian Finance Ministry said.
The U.S. has already imposed sanctions limiting some Russian banks' and companies' access to long-term debt markets. Moscow this week cancelled a planned government bond auction, citing market conditions. The big risk for Russia, though, isn't to government finances. Moscow is on track to balance its budget this year, and its external debt burden is low, with only $3 billion in repayments due this year.
Companies and banks are in a much tougher spot. They have $83 billion in external debt due to be repaid by the end of this year, says economist Neil Shearing of Capital Economics in London. What's more, he says, "the mere threat of financial sanctions by the West could lead to another jump in capital outflows," adding to an estimated $68 billion in capital that fled the country during the first six months of this year.
Capital flight is already creating "a major problem for economic policy," analysts at Deutsche Asset & Wealth Management write in a note to clients. "External financing need could rise to $120 billion a year."
It's possible, of course, that the Europeans won't agree on tough financial sanctions. Any sanctions would have to be approved unanimously by the 28 member countries. "Agreeing to any sanctions expansion that affects real economic interests constitutes a protracted political process, with no single country willing to carry the burden alone," analysts at Teneo Intelligence in London write in a note to clients.
And Russia might forestall additional sanctions by agreeing to EU demands to stop the flow of weapons to rebels in Ukraine and ensure access to the MH17 crash site.
But if Europe, including Norway, follows through on financial sanctions, the effects in Russia could be political as well as economic, says economist Charles Robertson of Renaissance Capital in London. Reduced access to capital markets "will reduce the scope for Russia to borrow to invest and grow," he says. "President Putin may be blamed for the resultant stagnation." If growth remains sluggish for the next few years, "that economic failure might outweigh the present pro-Putin fervor."
Before it's here, it's on the Bloomberg Terminal.
LEARN MORE