Ahoy, Investor: Royal Caribbean Sees Cash Ahead
By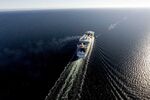 Royal Caribbean Cruises is starting to yield the fruits of cost cutting and international diversification. The world's second-largest cruise line said Thursday that it will aim to double its income and return on capital by 2017—a financial effort (pdf) it's calling Double Double—while directors weigh higher dividend payments and larger share repurchases.
To that end, the company raised its income outlook for the year to as much as $3.50 per share, above the average $3.39 among analysts tracked by Bloomberg. "We get to a point with this kind of profitability where the cash generation becomes a new problem to have," Richard Fain, Royal Caribbean's chairman and chief executive, told analysts today on a conference call. "It's not a problem we're that familiar with, to be blunt, but it's a nice problem to have. And we're beginning to talk about that."
Royal Caribbean shares surged more than 8 percent to a record high above $61 on the news. The stock has gained 28 percent this year, as cruise lines begin to recover from a string of cruise-ship mishaps that sunk pricing and profit for most of 2013. The company also expects that much of the depressed pricing—ahem, bargains, to cruisers—in the Caribbean will abate after the winter, with higher fares returning in the spring of 2015. That echoed the outlook among Carnival executives last month.
In the spring quarter, Royal Caribbean turned to higher-paying passengers in Europe and Asia to help overcome the glut of cruise-ship capacity in the Caribbean. Quarterly income jumped to $137 million, or 62¢ per share, from $25 million in the same period of 2013, helped primarily by Europeans booking cruises at the last minute and paying higher fares. Analysts had expected 45¢ per share.
Like its larger rival Carnival, Royal Caribbean is beginning to ramp up its investments abroad—especially in Asia—as industry growth increasingly is expected to come from first-time cruisers, many of them outside North America, the cruise industry's largest market. In April, Royal Caribbean surprised many people by announcing plans to move a brand new ship, Quantum of the Seas, to Shanghai in May 2015 after an inaugural six-month run in New York. "The move of Quantum was a pretty bold move, but now, looking back on it, it seems obvious," Fain said. "These things are always obvious after the fact."
Before it's here, it's on the Bloomberg Terminal.
LEARN MORE