A Two-Day Israel Flight Ban Ends With Vagueness
By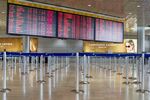 When the Federal Aviation Administration prohibited U.S. airline flights to Tel Aviv earlier this week, the reason was clear: A Hamas missile had exploded about a mile from the airport. Delta Air Lines quickly redirected an Israel-bound flight.
Changes since then that have allowed the two-day ban to end are much less clear, and not every airline has resumed flights. The FAA lifted the ban, citing "significant new information and measures the Government of Israel is taking to mitigate potential risks." European aviation regulators followed suit on Thursday, telling countries to base decisions as to whether to permit flights to Tel Aviv "on thorough risk assessments."
All three U.S. airlines with flights to Tel Aviv plan to resume their four total flights on Thursday evening. "The decision comes after careful internal consideration and input from high levels in government," Delta said in a statement. American, which makes a daily flight from Philadelphia, is "very comfortable with the information we have right now that we're doing the right thing," Chief Operating Officer Robert Isom said on a call with analysts about the carrier's financial results.
Lufthansa Group, on the other hand, decided to cancel its 16 flights to Israel on Thursday and Friday. "Lufthansa acknowledges the considerable efforts made by Israel to provide the best possible protection for Ben Gurion Airport with the 'Iron Dome' shield," the company said in a news release. "As soon as this protection can be verifiably guaranteed, we will resume flight operations." Nils Haupt, a Lufthansa spokesman in New York, said the airline assesses the situation each day and could resume service on Saturday. "Each airline has to sort this out by itself on when it's safe to fly," he said.
The flight restrictions were somewhat haphazard: Israel's El Al Airlines and British Airways did not cancel any flights this week, although most European carriers followed the lead of their U.S. peers. After the FAA action on Tuesday, the European Aviation Safety Agency issued notice that it "strongly recommends" that airlines avoid the Tel Aviv airport. The FAA decision generated controversy, with Israeli officials saying the flight ban would reward Hamas militants for their rocket attacks.
A United spokeswoman, Jennifer Dohm, said the airline does not discuss security protocols. She declined to comment on what changed to improve security at the Tel Aviv airport to allow the airline to resume its two daily flights from Newark, N.J. "It shouldn't be surprising that we all came to the same conclusion" about resuming flights, American Chief Executive Officer Doug Parker said. "There are no degrees of [safety] amongst the industry. No one is more adamant about safety than anybody else."
Before it's here, it's on the Bloomberg Terminal.
LEARN MORE