A Great Big World, Mary Lambert Sing for Babies: Scene
Amanda Gordon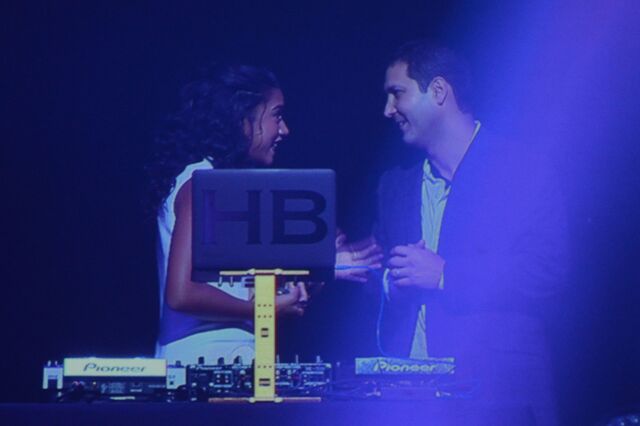 Andrew Rabinowitz, chief operating officer of Marathon Asset Management, looked like Hannah Bronfman's co-DJ -- or maybe a nightclub impresario -- at Hammerstein Ballroom last night.
Actually, while clusters of women danced on the floor to Madonna's "Material Girl," Rabinowitz thanked Bronfman for playing at a benefit for the R Baby Foundation, which he founded with his wife, Phyllis, to train doctors in infant emergency care.
The foundation emerged out of tragedy: the death of their daughter, Rebecca, on July 21, 2006, when she was eight days old. She was misdiagnosed with a common cold when she had a viral infection. The Rockin' to Save Babies' Lives Benefit was built on the community that has formed around the couple and their philanthropic work in 100 hospitals.
Marathon Chief Executive Officer Bruce Richards was there, flying in after giving a presentation in Chicago earlier in the day on opportunities in fixed income and distressed debt at the CFA Institute Financial Analysts Seminar.
Other Marathoners among the 1,200 guests: Jason Friedman, portfolio manager Jake Hyde and Dan Pine, who was married on June 14 at Round Hill in Jamaica to yoga instructor Lindsey Acree.
New Talent
Also present: Arthur Sachs of KGS-Alpha Capital Markets, Michael Romanowski and Jim Felty of Barclays Capital, Noreen Haider and Chris Tice of BNP Paribas, James Greenberg of Panorama Partners, David Lee of Houlihan Lokey, Mina Yoon of Neuberger Berman, Haewan Bae of Guggenheim Securities and David Henry of RBC.
Fashion designer Ramey Sharp wore white. Renee Marino, the actress who plays Frankie Valli's wife in the movie "Jersey Boys," wore red.
The event featured generous sets from alternative rocker Ryan Star, Mary Lambert and A Great Big World -- a showcase of new talent as opposed to old reliables, worth a listen during a long pause from mingling and making guys in suits get down with the kids for a night.
Lambert, best known for writing and singing the hook for Macklemore and Ryan Lewis's marriage-equality anthem "Same Love," sang "Body Love."
"I think everyone should love their body exactly as it is," Lambert said.
Smartphone Broadcast
A Great Big World performed "Everyone is Gay," along with other hits: their breakthrough "This is the New Year," put out with Kickstarter funding and used in the television show "Glee"; "Say Something" (which Christina Aguilera recorded with them after it was used on "So You Think You Can Dance") and "Already Home," with the lyric, "If only New York wasn't so far away," an ode to New York, from a band made in New York.
Bill Luterman, chief investment officer of Forbes Family Trust, stood at the edge of the stage holding up his smartphone so his kids Julia, 8, and Jack, 5, could watch A Great Big World's set from home. Julia sang along with band founders Ian Axel and Chad Vaccarino, who met at New York University's Steinhardt School of Culture, Education and Human Development.
In the balcony were fans who'd never heard of R Baby. Tickets had been marketed to the public, helping to fill Hammerstein and raise about $1 million for the nonprofit. A silent auction brought in some of those funds. Tickets to "Rocky" and "The Last Ship," Sting's new musical, garnered multiple bids. Gift cards for pre-natal yoga and therapy from CPW Vein and Aesthetic Center got less attention.
Aureole Auction
Z100 presented the concert, with Ryan Star, the hardest rocker on the lineup, as emcee, assisted by the radio station's assistant music director, Chris "Maxwell" Jones, and Marathon's Rabinowitz.
The trio conducted a live auction, during which Alex Chudnoff, a vice chairman at Jones Lang LaSalle, bid $8,000 for a getaway to Kiawah Island, South Carolina. Chudnoff also got an almost instantaneous photo op with a shirtless Star, doing a shot of Devotion Vodka. The brand, which served cocktails at the event, is sugar-free and gluten-free, said its CEO Drew Adelman.
Two guests agreed to pay $15,000 apiece for 10-guest dinners in their homes, prepared by the chef of Aureole at One Bryant Park, where Marathon is headquartered.
"You want lobster, you want caviar, you tell me," Aureole's Marcus Gleadow-Ware said onstage. "We'll plan the menu together."
Aureole was among the restaurants with a tasting station. It served tuna tartare mixed with watermelon and pineapple, accompanied by an avocado gel.
The soon-to-open steakhouse Hunt and Fish Club NYC served dry-aged grass-fed beef. Executive Chef Andrew Matthews said the restaurant will showcase local meats and decor, pointing to a sample slab of marble quarried upstate that's being used to decorate the restaurant.
DJ Cassidy closed out the evening.
Before it's here, it's on the Bloomberg Terminal.
LEARN MORE