Yale SOM's Plan to Expand Access to B-School: A $100 Discount
by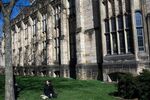 Last week, the Yale School of Management website touted an "important change" to its MBA application process. Prospective students who earn under $10,000 a year will now get $100 off the $225 application fee. Those who make under $20,000 will get a $50 discount. The school says this will reduce the financial burden for applicants in low-wage jobs and developing countries.
Some, however, think the change is mostly cosmetic. "You're going to save $50 on a $100,000 program?" says Manny Gonzalez, chief executive officer of the National Society of Hispanic MBAs. "The application cost is not a deterrent." The school should focus on offering low-income students larger scholarships, rather than small discounts on the application, he says. Yale SOM says it offered an average aid package of $34,800 to 29 percent of students in the Class of 2014. That would still leave the average scholarship student on the hook for about $80,000 in tuition and fees.
Bruce DelMonico, assistant dean and director of admissions at Yale SOM, says the school could reduce the fee even more next year. "This is the right thing to do," he says. Applicants to Yale's business school make a median $50,000, but about a quarter make under $20,000, says DelMonico. Those are mostly students from developing countries like India or recent college graduates, he says. (Julie Barefoot, associate dean of MBA admissions at Emory University's Goizueta Business School, says applicants from India typically make between $7,000 and $12,000.)
"Looking at where applications are coming from and the financial burden people take on, it's not an insignificant thing," DelMonico says.
If Yale SOM's goal is to improve access to business school, the fee cut may not go far enough. At the undergraduate level, some colleges started waiving fees entirely for low-income applicants after researchers at the Stanford University Institute for Economic Policy Research found last year that high-achieving high school students from low-income families rarely apply to top schools.
More than a quarter of applicants surveyed by Stacy Blackman Consulting this year planned to apply to five business schools. That could set students back more than $1,000. It also costs $250 to take the Graduate Management Admission Test.
Goizueta's Barefoot calls the change a way for SOM to "get more applications," and says it will be painstaking to verify applicants' income. (Goizueta charges $150 per application, the lowest fee of any private school in Bloomberg Businessweek's top 25.)
Yale's move is unique among top 25 B-schools, though Washington University in St. Louis's Olin School of Business (No. 31) doesn't have an application fee. Each of the top 14 full-time MBA programs that Bloomberg Businessweek ranks charges $200 to apply, although some have fee waivers for groups such as military veterans or Teach for America participants. Indiana University's Kelley School of Business (No. 15), Georgia Tech's Scheller College of Business (No. 23), and University of Maryland's Smith School of Business (No. 24) have the lowest application fees in the top 25 at $75 each, according to their websites.
Evan Bouffides, assistant dean and director of MBA admissions and financial aid at Olin, says the school saw a large jump in applications—and increases in class quality and diversity—when it wiped away its fee a few years ago. "It's been absolutely worth it for us."
So why does Yale SOM need an application fee at all? DelMonico says the $635,000 or so the school made off fees last year makes up almost all of the admissions office's budget, which he calls underfunded. "This definitely is not doing us any favors, that's for sure."
Before it's here, it's on the Bloomberg Terminal.
LEARN MORE