U.S. Bans Flights to Israel for a Second Day
By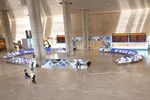 The ban on flights by U.S. airlines into Israel's main airport extended into a second day, with the Federal Aviation Administration citing continued risk from the conflict with militants in Gaza as it renewed its initial 24-hour ban. The decision is likely to further irritate Israel, which has argued that the loss of flights represents a victory for Hamas and its strategy of launching missiles into Israel.
After the FAA's decision on Tuesday, several European airlines and Air Canada followed suit and suspended service to Tel Aviv. Earlier Tuesday a Hamas-fired rocket landed about a mile from Ben Gurion Airport, prompting Delta Air Lines to divert a jet to Paris. Israel's El Al Airlines and British Airways have continued their flights to the country.
The FAA on Wednesday said it was "working closely with the government of Israel to review the significant new information they have provided and determine whether potential risks to U.S. civil aviation are mitigated so the agency can resolve concerns as quickly as possible."
Delta Chief Executive Richard Anderson warned that his airline may decide not to resume its flight from New York immediately, even if the FAA lifts its ban. "We appreciate advice and consent and intelligence we get," Anderson said during a conference call about the airline's earnings report. "But we have a duty and obligation above and beyond that to make the right decision for our employees and passengers."
Depending on how long it lasts, the American flight ban could inflict economic harm on Israel, which has a vibrant tourism and commercial trade with North America. Combined, United and Delta have three daily flights from New York, and American's US Airways unit flies from Philadelphia. Air Canada also offer a daily flight from from Toronto.
El Al has three daily flights from New York and one from each of Los Angeles and Toronto. The Israeli carrier made clear it has no plans to curtail its flights: "Always here, always will be," El Al posted on its website.
Michael Bloomberg, the former New York City mayor and owner of Bloomberg Businessweek parent Bloomberg LP, flew to Israel on El Al late Tuesday and met today with Prime Minister Benjamin Netanyahu. "Safely landed at Ben Gurion Airport in Tel Aviv—here to show support for Israel's right to defend itself," Bloomberg wrote on Twitter.
Haim Gutin, Israel's tourism commissioner for North and South America, said that 75,000 foreign tourists remained in the country on Wednesday, "and their travel arrangements are proceeding as planned."
British Airways officials declined to discuss how their assessment of the situation in Israel differed from their American and European counterparts. The airline has two daily flights from London to Tel Aviv. "Safety and security are our highest priorities, and we continue to monitor the situation closely," spokeswoman Michele Kropf said in an e-mail. She said the carrier does not discuss "matters of operational security."
Before it's here, it's on the Bloomberg Terminal.
LEARN MORE